You are here: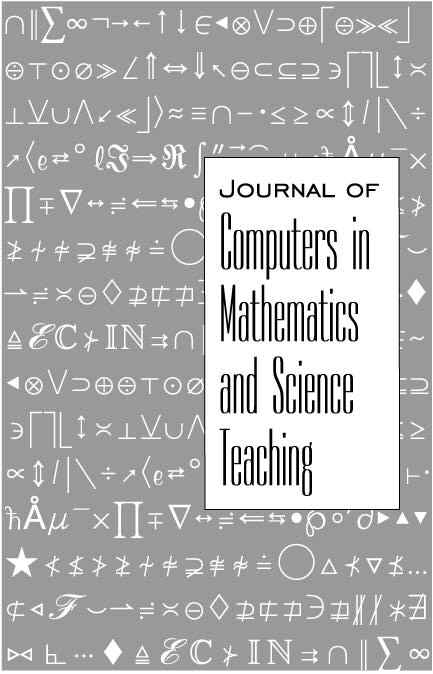 Enacting a Chaos Theory Curriculum Through Computer Interactions
Article
Judith M. Iseke-Barnes, Memorial University of Newfoundland, Canada
JCMST Volume 16, Number 1, ISSN 0731-9258 Publisher: Association for the Advancement of Computing in Education (AACE), Waynesville, NC USA
Abstract
This paper begins by examining human-computer interaction from two views of cognition, from the representationist view and the enactivist perspective. A chaos-theory context is then discussed from an enactivist stance. In this context, high school students explore and manipulate nonlinear dynamic computer programs. These programs generate (a) visual representations in the form of "cobwebs" of iterates of functions and other graphical representations and (b) numerical iterates of functions and graphs of these iterates through a spreadsheet application program. The chaos-theory curriculum is dynamically generated with students, and an example of one student's activities and mathematical experiences is examined offering the potential for increased understanding of how mathematical ideas develop in an interactive computer environment. The chaos-theory context is discussed through the enactive view. Implications of the enactive stance for education and research are then articulated.
Citation
Iseke-Barnes, J.M. (1997). Enacting a Chaos Theory Curriculum Through Computer Interactions. Journal of Computers in Mathematics and Science Teaching, 16(1), 61-89. Charlottesville, VA: Association for the Advancement of Computing in Education (AACE). Retrieved January 29, 2023 from https://www.learntechlib.org/primary/p/20952/.
Keywords
References
View References & Citations Map
Briggs, J., & Peat, F.D. (1989). Turbulent mirror: An illustrated guide to chaos theory and the science of wholeness. New York: Harper& Row.
Devaney, R. (1990). Chaos, fractals and dynamics: Computer experiments in mathematics. Menlo Park, CA: Addison-Wesley.
Falconer, K. (1990). Fractal geometry: Mathematical foundations and ap-p l ica t ions. Ch iches ter, England: John Wiley and Sons.
Ihde, D. (1979). Technics and praxis. Boston, MA: D. Reidel Publishing.
Ihde, D. (1991). Instrumental realism. Bloomington, IN: Indiana University Press.
Gleick, J. (1987). Chaos: Making a new science. New York: Viking Penguin.
Goldenberg, P. (1989). Seeing beauty in mathematics: Using fractal geometry to build a spirit of mathematical inquiry. Journal of Mathematical Behavior, 8, 169-204.
Lauwerier, H. (1991). Fractals: Images of chaos. New York: Penguin Books.
Mandelbrot, B. (1982). The fractal geometry of nature. San Francisco, CA: W.H. Freeman.
Maturana, H.R., & Varela, FJ. (1987). The tree of knowledge. Boston, MA : New Science Library of Shambhala Publications.
Montroll, E.W., & Badger, W.W. (1974). Introduction to quantitative aspects of social phenomenon. New York: Gordon and Breach Science Publishers.
Peitgen, H.O., & Richter, P.H. (1986). The beauty of fractals: Images of complex dynamical systems. New York: Springer-Verlag.
Schwartz, J., & Yerushalmy, M. (1993). The Geometric Supposer: What is it a case of? New York: Sunburst Publications.
Schwartz, J. (1989). Intellectual mirrors: A step in the direction of making schools Enacting Chaos Theory 89
Varela, F., Thompson, E., & Rosch, E. (1991). The embodied mind: Cogn i-t ive science and human experience. Cambridge, MA : MIT Press. Acknowledgements Research reported in this paper was supported in part by the Social Sciences and Humanities Research Council of Canada Grant# 752-91-0350. Author Note
These references have been extracted automatically and may have some errors. Signed in users can suggest corrections to these mistakes.
Suggest Corrections to References