You are here: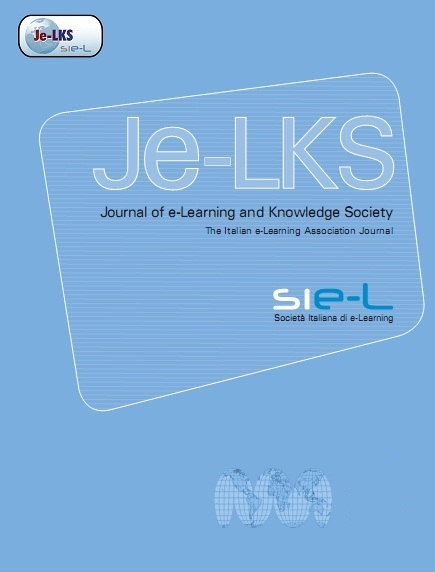 A framework for user modeling in QuizMASter
ARTICLE
Journal of e-Learning and Knowledge Society Volume 8, Number 3, ISSN 1826-6223 e-ISSN 1826-6223 Publisher: Italian e-Learning Association
Abstract
This paper presents an approach to user modeling in QuizMASter, a multi-user educational game shows that uses multi-agent systems to create a personalized learning environment. To keep the students motivated during the games, the system creates, maintains, and uses models of all attending contestants (i.e., learners). Taking advantage of prominent student modeling techniques with some novel ideas, we propose a structure and procedure to create student models and combined student models in QuizMASter. These models are used to create an adaptive environment in the quiz games, selecting and posing questions whose levels of difficulty closely match the knowledge levels of game contestants in certain areas of knowledge; meaning that the game questions for each game are adjusted to the knowledge levels of the learners and the game does not provide too easy or too difficult questions for the contestants. By selecting properly challenging questions for each game show, students are expected to stay motivated and continue benefiting from using the game show, increasing their knowledge through game-based learning.
Citation
Shabani, S., Lin, F. & Graf, S. (2012). A framework for user modeling in QuizMASter. Journal of e-Learning and Knowledge Society, 8(3), 29-44. Italian e-Learning Association. Retrieved July 31, 2021 from https://www.learntechlib.org/p/43261/.
Keywords
References
View References & Citations Map
Mitchell A., Savill-Smith C. (2004), The Use of Computer and VideoGames for Learning: A Review of the Literature, Learning and Skills Development Agency, ISBN: 1853389048, 2004.

Weng M.M., Fakinlede I., Lin F., Shih T.K., Chang M. (2011), A Conceptual Design of Multi-Agent Based Personalized Quiz Game, Advanced Learning Technologies (ICALT), 2011 11th IEEE International Conference on, 19-21, 2011.

Maragos K., and Grigoriadou M. (2007), Designing an Educational Online Multiplayer Game for learning Programming, In: Proceedings of the Informatics Education Europe II Conference, 2007.

Baker R.S.J. (2007), Modeling and understanding students' off-task behavior in intelligent tutoring systems, In: Rosson, M.B., Gilmore, D.J. (eds.) Proceedings of the 2007 Conference on Human Factors in Computing Systems, CHI 2007, San Jose, CA, USA, 1059–1068, 2007.

Ortony A., Clore G.L., Collins A. (1988), The Cognitive Structure of Emotions, Cambridge University Press, Cambridge, 1988.

Conati C., Maclaren H. (2009), Modeling User Affect from Causes and Effects, In Proceedings of the 17th International Conference on User Modeling, Adaptation, and Personalization: (UMAP '09), Geert-Jan Houben, Gord Mccalla, Fabio Pianesi, and Massimo Zancanaro (Eds.). Springer-Verlag, Berlin, Heidelberg, 4-15.

Cho J., Kato S. (2011), Detecting emotion from voice using selective Bayesian pairwise classifiers, Computers& Informatics (ISCI), 2011 IEEE Symposium on, 90-95, 20-23, 2011.

Conati C., Maclaren H. (2009), Empirically building and evaluating a probabilistic model of user affect, User Model. User-Adapt. Interact. 19(3), 267–303, 2009.

Biswas G., Jeong H., Kinnebrew J., Sulcer B., Roscoe R. (2010), Measuring SelfRegulated Learning Skills Through Social Interactions in a Teachable Agent Environment, Res. Pract. Technology-Enhanced Learn. 5(2), 123–152, 2010.

Shute V.J. (2008), Focus on Formative Feedback. Review of Educational Research, 78(1), 153-189.

Woolf B.P. (2009), Building Intelligent Interactive Tutors: Student-centered strategies for revolutionizing e-learning, Morgan Kaufmann.

Self J. (1990), Bypassing the Intractable Problem of Student Modeling, In: Proceedings of Intelligent Tutoring Systems, ITS'88, 18–24, Montreal, Canada. 1990.

Mitrovic A., Koedinger K.R., Martin B. (2003), A comparative analysis of cognitive tutoring and constraint-based modeling, In: User Modeling 2003, 9th International, 2003.

Canfield W. (2001), ALEKS: A Web-based intelligent tutoring system. Mathematics and Computer Education, 35(2), 152-158, 2001.

Mitrovic A. (2012), Fifteen Years of Constraint-Based Tutors: What We Have Achieved and Where We Are Going, User Model. User-Adapt. Interact. 22, 2012.

Doignon J.P., Falmagne J.C. (1999), Knowledge Spaces, Springer Verlag, Heidelberg, 1999.

Brusilovsky P. (2001), Adaptive Hypermedia, User Model. User-Adapt. Interact, 11(1–2), 87–110, 2001.

Desmarais M., Baker R. (2012), A Review of Recent Advances in Learner and Skill Modeling in Intelligent Learning Environments, User Modeling and User-Adapted Interaction. 1(22), Springer Netherlands, 9-38, 2012.

Vassileva J., McCalla G., Greer J. (2003), Multi-Agent Multi-User Modeling In I-Help," User Model. User-Adapt. Interact. 13, 179–210, 2003.

Tsiriga V., Virvou M. (2003), Initializing Student Models In Web-Based ITSs: A Generic Approach, Advanced Learning Technologies, 2003. Proceedings. The 3rd IEEE| Invited Papers-Vol. 8, N. 3, September 2012 International Conference, 42-46, 9-11, 2003.

Hothi J., Hall W. (1998), An Evaluation Of Adaptive Hypermedia Techniques Using Static User Modeling. In: P. Brusilovsky and P. De Bra (eds.): Proceedings of the Second Workshop on Adaptive Hypertext and Hypermedia, 45-55, 1998.

McCalla G. (2004), The Ecological Approach to the Design of E-Learning Environments: Purpose-based Capture and Use of Information About Learners," Journal of Interactive Media in Education, Special Issue on the Educational Semantic Web,
These references have been extracted automatically and may have some errors. Signed in users can suggest corrections to these mistakes.
Suggest Corrections to References