You are here:
Exploring the Benefits and Challenges of Using Laptops in Higher Education Classrooms
PROCEEDINGS
Robin Kay, Sharon Lauricella, University of Ontario Institute of Technology, Canada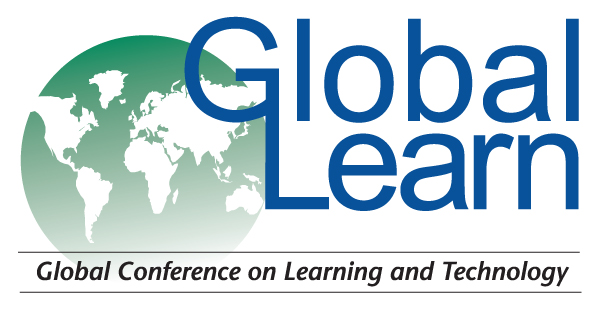 Global Learn, in Penang, Malaysia ISBN 978-1-880094-79-2 Publisher: Association for the Advancement of Computing in Education (AACE)
Abstract
Because of decreased prices, increased convenience, and wireless access, an increasing number of college and university students are using laptop computers in their classrooms. This recent trend has forced instructors to address the educational consequences of using these mobile devices. The purpose of the current study was to analyze and assess the benefits and challenges associated with classroom use of laptop computers in higher education.
Citation
Kay, R. & Lauricella, S. (2010). Exploring the Benefits and Challenges of Using Laptops in Higher Education Classrooms. In Z. Abas, I. Jung & J. Luca (Eds.), Proceedings of Global Learn Asia Pacific 2010--Global Conference on Learning and Technology (pp. 4140-4144). Penang, Malaysia: Association for the Advancement of Computing in Education (AACE). Retrieved April 23, 2019 from https://www.learntechlib.org/primary/p/34510/.
Keywords
View References & Citations Map
References
Barak, M., Lipson, A., & Lerman, S. (2006). Wireless laptops as means for promoting active learning in large lecture halls. Journal of Research on Technology in Education, 38(3), 245-263.
Barkhuus, L. (2005). Bring your own laptop unless you want to follow the lecture: Alternative communication in the classroom. Proceedings of the 2005 international ACM SIGGROUP conference on Supporting groupwork, Florida, 140-143.
Crook, C. & Barrowcliff, D. (2001). Ubiquitous computing on campus: Patterns of engagement by university students. International Journal of Human-Computer Interaction, 13(2), 245-256.
Demb, A., Erickson, D., & Hawkins-Wilding, S. (2004). The laptop alternative: Student reactions and strategic implications. Computers& Education, 43(4), 383-401.
Finn, S., & Inman, J.G. (2004). Digital unity and digital divide: Surveying Alumni to study effects of a campus laptop initiative. Journal of Research on Technology in Education, 36(3), 297-317.
Fried, C.B. (2008). In-class laptop use and its effects on student learning. Computers& Education, 50(3), 906-914.
Grace-Martin, M., & Gay, G. (2001). Web browsing, mobile computing and academic performance. Educational Technology and Society, 4(3), 95-107.
Hembrooke, H., & Gay, G. (2003). The laptop and the lecture: The effects of multitasking in learning environments. Journal of Computing in Higher Education, 15(1), 46-64.
Lindroth, T., & Bergquist, M. (2010). Laptopers in an educational practice: Promoting the personal learning situation. Computer& Education, 54, 311-320.
Kladko, B. (2005). Wireless classrooms: tool or distraction? The Record(April 16), A1.-4143-McCrea, B. (2010). 5 higher educations trends to watch. Campus Technology. Retrieved from http://campustechnology.com/Articles/2009/12/09/5-Higher-Ed-Tech-Trends-To-Watch-in-2010.aspx?p=1. McWilliam, G. (2005). The laptop backlash. The Wallstreet Journal(October 14), B1.
McVay, G.J., Snyder, K.D., & Graetz, K.A. (2005). Evolution of a laptop university: A case study. British Journal of Educational Technology, 36(3), 513-524.
Mitra, A., & Steffensmeier, T. (2000). Changes in student attitudes and student computer use in a computer-enriched environment. Journal of Research on Computing in Education, 32(3), 417.
Montgomery, K.C. (2009). Generation Digital. MIT Press: MA.
Mouza, C. (2008). Learning with laptops: Implementation and outcomes in an urban, under-privileged school. Journal of Research on Technology in Education, 40(4), 447-472.
Palfrey, J. & Gasser, U. (2008). Born Digital. Basic Books: NY.
Schwartz, J. (2003). Professors vie with Web for class's attention. New York Times(January 2), A1.
Siegle, D., & Foster, T. (2001). Laptop computers and multimedia and presentation software: Their effects on student achievement in anatomy and physiology. Journal of Research on Technology in Education, 34(1), 2937.
Smith, S.D., Salaway, G., & Caruso, J.B. (2009). The ECAR study of undergraduate students and information technology, Educause, 6, 1-128.
Szaniszlo, M. (2006). Harvard profs lay down law: no laptops in class. The Boston Herald(June 4), A6.
Tapscott, D. (2008). Grown Up Digital: How the Net Generation is Changing Your World. McGraw-Hill: NY.
Trimmel, M., & Bachmann, J. (2004). Cognitive, social, motivational and health aspects of students in laptop classrooms. Journal of Computer Assisted Learning, 20(2), 151-158.
Weaver, B.E., & Nilson, L.B. (2005). Laptops in class: What are they good for? what can you do with them? New Directions in Teaching and Learning, 101, 3-13.
Wilen-Daugenti, T.(2008). Higher Education Trends& Statistics http://www.cisco.com/web/about/ac79/edu/trends/issue01.html.
Wurst, C., Smarkola, C., & Gaffney, M.A. (2008). Ubiquitous laptop usage in higher education: Effects on student achievement, student satisfaction, and constructivist measures in honors and traditional classrooms. Computers& Education, 51(4), 1766-1783.
Young, J.R. (2006). The Wght for classroom attention: professor vs laptop. Chronicle of Higher Education(June 2), A27–A29. Issues 1. Retrieved-from
These references have been extracted automatically and may have some errors. If you see a mistake in the references above, please contact info@learntechlib.org.