You are here: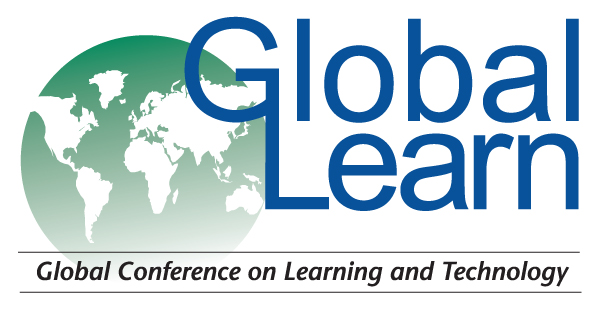 Virtual Quality in Transformative Outcome-Based Blended Learning
PROCEEDINGS
Valerie Ross, Universiti Teknologi MARA, Malaysia
Global Learn, in Penang, Malaysia ISBN 978-1-880094-79-2 Publisher: Association for the Advancement of Computing in Education (AACE)
Abstract
This paper examined aspects of quality assurance in association with the review of curriculum. The review was premised on outcome based education. The study further postulated on how blended learning may be developed from the outputs of the reviewed curricular. The first part of the paper discussed the various forms of outcome-based education, components of the codes of good practice in academic quality assurance and features of blended learning. The second part of the paper examined ways in which the transformative effects of outcome-based education may be applied to (re)align course components and programme delivery to complement blended learning strategies that are congruent with quality assurance practices in the virtual domain. A User-Learner Centred Design model was created to advocate for the systematic training of lecturers as instructional designers in outcome based blended learning.
Citation
Ross, V. (2010). Virtual Quality in Transformative Outcome-Based Blended Learning. In Z. Abas, I. Jung & J. Luca (Eds.), Proceedings of Global Learn Asia Pacific 2010--Global Conference on Learning and Technology (pp. 752-759). Penang, Malaysia: Association for the Advancement of Computing in Education (AACE). Retrieved February 22, 2020 from https://www.learntechlib.org/primary/p/34259/.
Keywords
References
View References & Citations Map
Bershin, J. (2004). The blended book of learning. San Francisco: Pfeiffer. Bloom, B. (Ed). (1956) Taxonomy of educational objectives: The classification of educational goals. Book 1 : Cognitive domain. London: Longman.
Bouslama, F., Lansari,A., Al-Rawi,A., & Abonamah, A. (2003). A novel outcome-based educational model and its effect on student learning, curriculum development and assessment. Journal of Information Technology Education, 2, 203-214.
COPIA (2009). Code of Practice for Institutional Audit, Malaysian Qualifications Agency
COPPA (2009). Code of Practice for Programme Accreditation, Malaysian Qualifications Agency. Cunningham, S. Et al. The Business of Borderless Education, Canberra: Department of Education, Training and Youth Affairs, 2000.
Shepherd, E. (2006). 'Definitions, Uses and Benefits of Standards', Online Assessment and Measurement: Foundations and Challenges, London: Information Science Publishing.
Malan, S. (2000). The 'new paradigm' of outcomes-based education in perspective. Journal of Family Ecology and Consumer Sciences, 28,22-28.
Moore, M. And Kearsley, G. (2005). Distant Education. CA: Thomson Wadsworth.
Morley, J. (2000, January). Methods of assessing learning in distance education courses. Education at A Distance, 13(1). Retrieved 4.6.04 http://www.usdla.org/html/journal/Jan00_Issue/Method.htm.
MQF (2008). Malaysian Qualifications Framework, Malaysian Qualifications Agency.
Oliva, P. (2005). Developing the Curriculum. Boston: Person Education.
Prebble, T.. (1999) "Quality Assurance in Dual Mode Institutions", in Achieving Quality: Examples of Good Practice in New Zealand Universities, AAU Series on Quality, Number 3, Academic Audit Unit, Wellington.
Porter, L. (1997). Creating the virtual classroom. New York: John Wiley& Sons.
Ross, V. (2006). 'Designing e-curricular: a creative transformation'. Proceedings, 3rd International Conference on University Learning and Teaching, Universiti Teknologi MARA, 14-15 March 2006, Shah Alam.
Ross, V. (2007). 'Power dynamics in designing assessment papers for blended mode learners', Proceedings 21st Annual Asian Association of Open Universities Conference, 29-31 October 2007, Putrajaya.
Rowe, N.C. (2004).Cheating in online student assessment: Beyond plagiarism. Online Journal of Distance Learning Administration, 7(2) [electronic version]. Retrieved 31.6.04. From http;// www.westga.edu/-distance/ojdla/summer72/rowe72.html.
Russell-Bowie, D. (2009). Using authentic blended learning environment in primary music education. In G. Siemens& C. Fulford (Eds.), Proceedings of World Conference on Educational Multimedia, Hypermedia and Telecommunications 2009 (pp. 441-446). Chesapeake, VA: AACE.
Schwier, R.A. (2001). Catalysts, emphases and elements of virtual learning communities: Implications for research and practice. Quarterly Review of Distance Education, 2(1), 5-18.
Spady, W. & Marshall, K. (1991). Beyond traditional outcome-based education, Educational Leadership, 49(2), 67-72.
Tucker, B. (2004). Literature Review: Outcomes-focused Education in Universities. Learning Support Network, Curtin University of Technology, (http://Tsn.curtin.edu.au/outcomes/docs/LitReview.pdf, Retrieved 19.10.04).
UiTM (2010). Academic Affairs Division, University Teknologi MARA (Retrieved 24.3.10 from http://www.hea.uitm.edu.my).
These references have been extracted automatically and may have some errors. Signed in users can suggest corrections to these mistakes.
Suggest Corrections to References