You are here: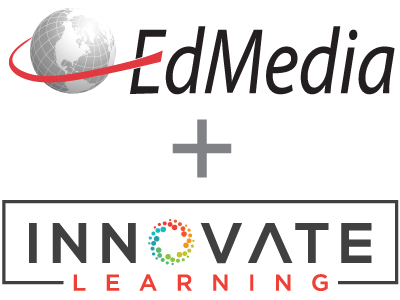 Mastering the Metaphor: Empowering the Young Child for Independent Computer Use
PROCEEDINGS
Kirsten Ellis, Monash University, Australia ; Kathy Blashki, Deakin University, Australia
AACE Award
EdMedia + Innovate Learning, in Lugano, Switzerland ISBN 978-1-880094-53-2 Publisher: Association for the Advancement of Computing in Education (AACE), Waynesville, NC
Abstract
Abstract: This paper explores the potential for using metaphors to enable two and three year old children to interact independently with a computer earlier than is traditionally accepted. They need appropriate cognitive skills, the development of which is dependent on the provision of suitable activities; they need adequately developed physical skills to interact with the hardware and necessary knowledge of expected behaviours for interaction. The authors argue that such expectations can be conveyed via the use of metaphors and will employ a purpose-built multimedia product Television Metaphor (TVM) as an example in order to support their discussion. As the TVM software has hitherto demonstrated, age appropriate metaphors using source domains familiar to young children can guide children in the requisite interactions for independent computer use. TVM was created to contextualise theoretical discussions into interface design and to synthesise the ensuing analysis into an applied form.
Citation
Ellis, K. & Blashki, K. (2004). Mastering the Metaphor: Empowering the Young Child for Independent Computer Use. In L. Cantoni & C. McLoughlin (Eds.), Proceedings of ED-MEDIA 2004--World Conference on Educational Multimedia, Hypermedia & Telecommunications (pp. 4438-4445). Lugano, Switzerland: Association for the Advancement of Computing in Education (AACE). Retrieved October 14, 2019 from https://www.learntechlib.org/primary/p/11715/.
Keywords
References
View References & Citations Map
Anselmo, S., & Zinck, R. A. (1987). Computers for Young Children? Perhaps. Young Children, 42(3), 22- 27.
Buckingham, D. (2000) After the Death of Childhood: Growing up in the Age of Electronic Media , Cambridge: Polity
Chapman, W. (1993). Colour Coding and the Interactivity of Multimedia. Journal of Educational Multimedia and Hypermedia, 2(1), 3 -23.
Clements, D. H. (1987). Computers and Young Children: A Review of the Research, Young Children , 41(1), 34- 44.
Critchley, C. (2002) The games kids play, Herald Sun Melbourne 25/09/02, P. 4
Crook, C. (1991). Computers for Preschool Children: The Role of Direct Manipulation Interfaces, Early Child Development and Care, 69, 5-18.
Druin, A., & Solomon, C. (1996). Designing Multimedia Environments for Children, Canada, John Wiley and Sons, In C.
Ellis, K. (2001). Modelling Interface Metaphors: Developing Multimedia for Young Children, Masters of Information Technology (Research) Thesis, Faculty of Information Technology, Monash University.
Fatouros, C. (1995). Young Children Using Computers: Planning Appropriate Learning Experiences, Australian Journal of Early Childhood, 20(2), 1- 6.
Gentner, D., & Nielson, J. (1996). The Anti-Mac Interface, Communication of the ACM, 39(8), 70 -83.
Gillan, D. J., & Bias, R. G. (1994). Use and Abuse of Metaphor in Human-Computer Interaction, 1994 IEEE International Conference On Systems, Man and Cybernetics. Human Information Technology, (Cat. No. 94CH3571 - 5) Vol 2, IEEE, 1434 -1439 .
Grover, S. C. (1986). A Field Study of the Use of Cognitive-Developmental Principles in Microcomputer Design for Young Children, Journal of Educational Research, 79(6), 325- 332.
Hamilton, A. (2000). Interface Metaphors and Logical Analogie s: A Question of Terminology, Journal of the American Society for Information Sciences , 51(2), 111 -122.
Jones, M. & Liu, M. (1997). Introducing Interactive Multimedia to Young Children: A Case Study of How Two - Year-Olds Interact With the Technology, Journal of Computing in Childhood Education , 8(4), 313- 343.
Kajs, L. T., Alaniz, R., Willman, E., & Sifuentes, E. (1998). Coloring-Coding Keyboard Functions to Develop Kindergarteners' Computer Literacy, Journal of Computing in Childhood Education, 9(2), 107 - 111.
Langford, D., & Jones, C. (1994). The Kitchen Interface -- A Lateral Approach to GUI, Sigchi Bulletin , 26(2), 41- 5.
Lewin, K (1997) Resolving Social Conflicts and Field Theory in Social Science American Psychological Association
Lewin, K. (1999) The Complete Social Scientist (ed.) Martin Gold, American Psychological Association
Lippert, K. (1995). Should Your Toddler Be a Techie, The New York Times (1 June):B1.
Mandelkern, D. (1993). Guis: The Next Generation, Communications of the ACM , 36(4), 36- 40.
Marcus, A. (1993). Human Communications Issues in Advanced UIs, Communications of The ACM, 36(4), 100 - 110.
Mohnkern, K. (1997). Beyond Interface Metaphors, Sigchi Bulletin, 29(2), 11- 15.
Nightingale, V. Dickenson, D. & Griff, C. (2000) "Harm: Children's views about media harm and program classification" Forum 2000, Conference paper, Sydney
Stenhouse, L (1975) An introduction to curriculum research and development London; Heinemann
Thomas, P., Riddick, J., & Dodd, S. (1994). Organisational Metaphors for the Design of Collaborative Systems, Journal of Intelligent Systems, 4(1/2), 47 -63.
These references have been extracted automatically and may have some errors. Signed in users can suggest corrections to these mistakes.
Suggest Corrections to References