You are here: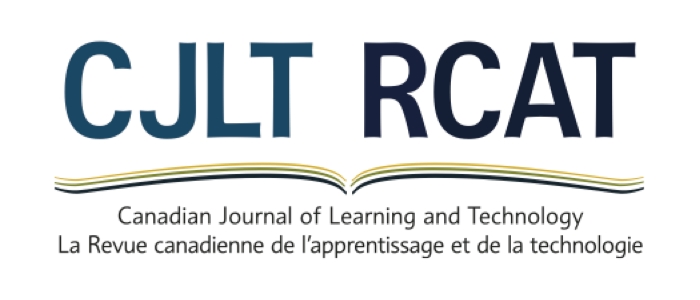 Online learning management systems (LMS) and sense of community: A pre-service practicum perspective
ARTICLE
CJLT Volume 33, Number 3, ISSN 1499-6677 e-ISSN 1499-6677 Publisher: Canadian Network for Innovation in Education
Abstract
This paper examines the impact of the implementation of an online learning management system (LMS) on pre-service teachers during their major pre-service practicum. The LMS enabled students to remain connected to peers, professors, and supervisors while new relationships were formed with in-school personnel such as mentor teachers, principals, and students. The quantitative data analysis revealed that pre-service teachers perceived a higher sense of community when it included pre-service teachers only than when it included teaching faculty and part-time practicum supervisors. The online LMS was identified as the best predictor of a sense of community among pre-service teachers, when compared to other variables, and not a significant predictor when community included part-time practicum supervisors. The paper concludes with an examination of the perspectives of provincial Ministries of Education and Teachers Federations in relation to the role and evaluation of educational technology initiatives. Résumé: Cet article examine l'impact de l'implantation d'une plateforme eLearning (LMS) sur de futurs enseignants en stage. La plateforme a permis aux étudiants de rester en contact avec leurs pairs, leur professeurs et leurs superviseurs, alors que de nouvelles relations se formaient avec la collectivité de l'école les accueillant pour leur stage (mentor, directeur d'école et élèves). L'analyse des données quantitatives a révélé que les futurs enseignants percevaient un meilleur esprit communautaire quand seuls les futurs enseignants en faisaient partie par opposition à une communauté composée des futurs enseignants, des professeurs de leur programme et les superviseurs à temps partiel de leur stage. La plateforme LMS a été identifiée comme le meilleur prédicteur de l'esprit communautaire chez les futurs enseignants par comparaison avec d'autres variables, et un prédicteur non significatif quand la communauté incluait les superviseurs de stage. L'article se termine sur un examen des perspectives des ministères provinciaux de l'éducation et des fédérations d'enseignants en relation avec le rôle et l'évaluation des initiatives en technologie éducative.
Citation
Rideout, G., Bruinsma, R., Hull, J., Modayil, J. & Modayil, J. (2008). Online learning management systems (LMS) and sense of community: A pre-service practicum perspective. Canadian Journal of Learning and Technology / La revue canadienne de l'apprentissage et de la technologie, 33(3),. Canadian Network for Innovation in Education. Retrieved June 20, 2019 from https://www.learntechlib.org/p/42932/.
References
View References & Citations Map
Ambrose, R., Clement, L., Philipp, R., Chauvot, J. (2004). Assessing prospective elementary school teachers' beliefs about mathematics and mathematics learning: Rationale and development of a constructed-response-format beliefs survey. School Science and Mathematics, 94(2), 56-69

Alberta's Commission on Learning (2003). Every child learns, every child succeeds: Report and recommendations. Alberta Government. ISBN 0-7785-2600-3.

Bellah, R.N., Madsen, R., Sullivan, W.M., Swidler, A., & Tipton, S.M. (1985). Habits of the heart: Individualism and commitment in American life. New York: Harper and Row.

Dewitt, P. (1999). A third grade teacher in a technocratic school asks a dangerous question: What is learning? Interchange, 30, 399-414.

Chapman, C., Ramondt, L., & Smiley, G. (2005). Strong community, deep learning: Exploring the link. Innovations in Education and Teaching International, 42(3), 217-230.
Edens, K. (2000). Promoting communication, inquiry and reflection in an early practicum experience via an on-line discussion group. Action in Teacher Education, 22(2A), 14-23.

Fryatt, M., & Morgan, D. (2001). Getting started with integrating ICT: A guide for teachers [electronic version]. Victoria, BC. Retrieved on Sept 25, 2005 from http://www.bced.gov.bc.ca/technology/documents/getstart.pdf

Hoy, W. (2001). The pupil control studies: A historical, theoretical, and empirical analysis. Journal of Educational Administration, 39, 424-441.

Hoy, W., & Rees, R. (1977). The bureaucratic socialization of student teachers. Journal of Teacher Education, 28, 23-26.

Huffman, S., Holifield, M., & Holifield, A. (2003). Student management: Teacher interns wrestling with assumptions. Education, 124(1), 120-125.

Kagan, D. (1992). Professional growth among preservice and beginning teachers. Review of Educational Research, 62, 129-169

Korthagen, F., Loughran, J., & Russell, T. (2006). Developing fundamental principles for teacher education programs and practices. Teaching and Teacher Education, 22, 1020-1041.

Latané, B. (1981). The psychology of social impact. American Psychologist, 36, 343-356.

Lunenburg, F. (1986). The influence of experience on the student teacher. The High School Journal, 70(Feb./March), 214-217.

Manitoba Education and Training (1998). Technology as a foundation skill area: A journey toward information technology literacy. Catalogue# 371-334. Retrieved July 17, 2006 from www.edu.gov.mb.ca/ks4/docs/support/tfs/ pdfed_tech.pdf

MacFarlane, D. (2004). Who rules in schools?. Alberta Teachers' Association. Retrieved November 7, 2005 from the Alberta Teachers' Association Website: Number+1/Articles/Who+Rules+in+Schools.htm

McMillan, D.W., & Chavis, D.M. (1986). Sense of community: A definition and theory. Journal of Community Psychology, 14(1), 6-23.

Ngwenya, J., Annand, D., & Wang, E. (2004). Supporting asynchronous discussions among online learners. In T. Anderson, & F. Elloumi, (Eds.). Theory and practice of online learning. Edmonton, AB: Athabasca University. Retrieved February 15, 2006 from http://cde.athabascau.ca/online_book/ch13.html

Rourke, L., & Anderson, T. (2002). Exploring social presence in computer conferencing. Journal of Interactive Learning Research,13(3), 259-275.
Rovoi, A.P., & Jordan, H.M. (2004). Blended learning and sense of community: A comparative analysis with traditional and fully online graduate courses. The International Review of Research in Open and Distance Learning, 5(2). Retrieved December 8, 2006 from ERIC Website: http://www.irrodl.org/index.php/irrodl/rt/printerFriendly/192/274
Rovoi, A.P. (2002). Building sense of community at a distance. The International Review of Research in Open and Distance Learning, 3(1). Retrieved December 8, 2006 from ERIC Website: http://www.irrodl.org/ Index.php/irrodl/article/viewArticle/79/152

Sergiovanni, T., & Starratt, R. (1998). Supervision: A redefinition. New York: McGraw-Hill.

Shiveley, J., & Poetter, T. (2002). Exploring clinical, on-site supervision in a school-university partnership. The Teacher Educator, 37, 282-301.

Sweet, L. (2000). The dawn mistaken for dusk. Grand Rapids: Zondervan.

Vonderwell, S., & Zachariah, S. (2005). Factors that influence participation in online learning. Journal of Research on Technology in Education, 38(2), 213-227.

Wiley, C. (2000). A synthesis of research on the causes, effects, and reduction strategies of teacher stress. Journal of Instructional Psychology, 27(2), 80-87.

Zlotnik, M. (2000). Early soundings: Education in a new context for student learning created by information& Communication technologies. [Electronic Version] British Columbia Teachers' Federation. Retrieved July 14, 2006 from the British Columbia Teachers' Federation Website: http://www.bctf.ca/education/technology/EarlySoundings/report.pdf
These references have been extracted automatically and may have some errors. Signed in users can suggest corrections to these mistakes.
Suggest Corrections to References