You are here:
A framework for identifying and promoting metacognitive knowledge and control in online discussants
ARTICLE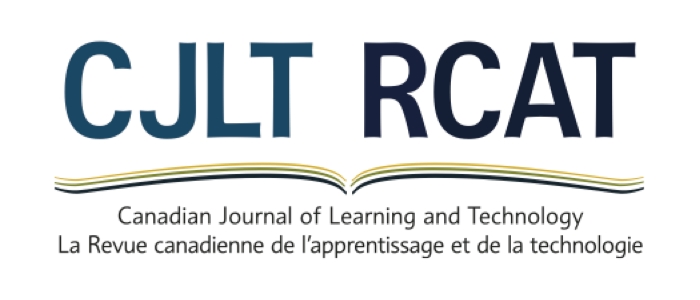 CJLT Volume 34, Number 2, ISSN 1499-6677 e-ISSN 1499-6677 Publisher: Canadian Network for Innovation in Education
Abstract
The effectiveness of computer-based learning environments depends on learners' deployment of metacognitive and self-regulatory processes. Analysis of transmitted messages in a context of Computer Mediated Communication can provide a source of information on metacognitive activity. However, existing models or frameworks (e.g., Henri, 1992) that support the identification and assessment of metacognition have been described as subjective, lacking in clear criteria, and unreliable in contexts of scoring. This paper develops a framework that might be used by researchers analysing transcripts of discussions for evidence of engagement in metacognition, by instructors assessing learners' participation in online discussions or by designers setting up metacognitive experiences for learners. Résumé : L'efficacité des environnements d'apprentissage assistés par ordinateur repose sur l'utilisation de processus de métacognition et d'autorégulation par les apprenants. L'analyse de messages transmis dans un contexte de communication assistée par ordinateur peut constituer une source d'information sur l'activité métacognitive. Cependant, les modèles et cadres existants (p. ex. Henri, 1992) qui permettent la reconnaissance et l'évaluation de la métacognition ont été décrits comme subjectifs, dépourvus de critères clairs et peu fiables dans des contextes de notation. Cet article décrit un cadre qui pourrait être utilisé par les chercheurs qui analysent les transcriptions de discussions à la recherche de preuves d'engagement métacognitif, par les instructeurs qui procèdent à l'évaluation de la participation des apprenants à des discussions en ligne ou par les concepteurs qui élaborent des expériences métacognitives pour les apprenants.
Citation
Murphy, E. & Murphy, E. (2009). A framework for identifying and promoting metacognitive knowledge and control in online discussants. Canadian Journal of Learning and Technology / La revue canadienne de l'apprentissage et de la technologie, 34(2),. Canadian Network for Innovation in Education. Retrieved April 21, 2019 from https://www.learntechlib.org/p/42828/.
View References & Citations Map
References
Anderson, L., Krathwohl, D., Airasian, P., Cruikshank, K., Mayer, R., Pintrich, P., Raths, J., Wittrock, M. (2001). A taxonomy for learning, teaching and assessment: A revision of Bloom's taxonomy of educational objectives. New York: Longman. Anderson, T., Rourke, L., Garrison, R., & Archer, W. (2001). Assessing teaching presence in a computer conferencing context. Journal of Asynchronous Learning Networks, 5(2), 1-17. Artzt, A.F., & Armour-Thomas, E. (1992). Development of a cognitive-metacognitive framework for protocol analysis of mathematical problem solving in small groups. Cognition and Instruction, 9(2), 137-175.

Aviv, R., Erlich, Z., Ravid, G., & Geva, A. (2003). Network analysis of knowledge construction in asynchronous learning networks. Journal of Asynchronous Learning Networks, 7(3), 1-23. Azevedo, R. (2005). Computer environments as metacognitive tools for enhancing learning. Educational Psychologist, 40(4), 193-197. Baker, L. (1989). Metacognition, comprehension monitoring, and the adult reader. Educational Psychology Review, 1, 3-38. Beaudin, B. (1999). Keeping online asynchronous discussions on topic. Journal of Asynchronous Learning Networks, 3(2), 41-53. Beuchot, A., & Bullen, M. (2005). Interaction and interpersonality in online discussion forums. Distance Education, 26(1), 67-87. Brown, A.L. (1978). Knowing when, where, and how to remember: a problem of metacognition. In R. Glaser (Ed.), Advances in Instruction Psychology Volume 1 (pp.77-165) New Jersey:

Erlbaum Fahy, P. & Ally, M. (2005). Student learning style and asynchronous Computer-Mediated Conferencing (CMC) interaction. American Journal of Distance Education, 2005, 19(1), 5-22. Fahy, P. (2002). Use of linguistic qualifiers and intensifiers in a computer conference. The American Journal of Distance Education, 16(1), 5–22. Flavell, J.H. (1976). Metacognitive aspects of problem solving. In L.B. Resnick (Ed.), The nature of intelligence, (pp. 231-235). Hillsdale, NJ: Erlbaum. Flavell, J.H. (1979). Metacognition and
Hara, N., Bonk, C.J., & Angeli C. (2000). Content analysis of online discussion in an applied educational psychology course. Instructional Science, 28 (2), 115-152. Hurme, T., Palonen, T. & Järvelä, S. (2006). Metacognition in joint discussions: an analysis of the patterns of interaction and the metacognitive content of the networked discussions in mathematics Metacognition and Learning, 1(2). Henri, F. (1992). Computer conferencing and content analysis. In A.R. Kaye (Ed.), Collaborative learning through computer conferencing: the Najaden papers (pp. 117– 36). Berlin: Springer-Verlag. Iding, M., Vick, R., Crosby, M.. & Auernheimer,

Kanuka, H. (2005). An exploration into facilitating higher levels of learning in a text-based internet learning environment using diverse instructional strategies. Journal of Computer-Mediated Communication, 10(3).

Kanuka, H., & Anderson, T. (1998). On-line social interchange, discord, and knowledge construction. Journal of Distance Education, 13(1), 57-74. Retrieved October 30, 2007 from http://cade.athabascau.ca/vol13.1/kanuka.html. Kramarski, B. & Mizrachi N. (2004). Enhancing mathematical literacy with the use of metacognitive guidance in forum discussion. Proceedings Of The 28th Conference Of The International Group For The Psychology Of Mathematics Education, vol 3, pp 169–176. Lambert, N.M., & McCombs, B.L.
Chan, A. (2006). Fostering reflection and metacognition through student-generated podcasts. Paper presented in the Australian Computers in Education Conference. Meijer, J., Veenman, M., & Van Hout-Wolters, B. (2006). Metacognitive activities in text-studying and problem-solving: development of a taxonomy. Educational Research and Evaluation, 12(3), 209-237. Murphy, E. (2004a).An instrument to support thinking critically about critical thinking in online asynchronous discussions. Australasian Journal of Educational Technology, 20(3), 295-316. Murphy, E. (2004b). Identifying and measuring ill-structured problem formulation and resolution in online asynchronous discussions. Canadian Journal of Learning and Technology, 30(1). Nelson, T. (Ed.). (1992). Metacognition: Core readings. Boston: Allyn & Bacon. Pellegrino, J., Chudowsky, N., &
Glaser, R. (Eds.) (2001). Knowing what students know: the science and design of educational assessment. Washington, DC: National Academy Press. Perkins, C., & Murphy, E. (2006). Identifying and measuring individual engagement in critical thinking in online discussions: An exploratory case study. Educational Technology& Society, 9(1), 298-307. Reilly, D.H. (2005). Learner-centered education: successful student learning in a nonlinear environment. Frederick, MD: Publish America. Schraw, G., & Dennison, R. (1994). Assessing metacognitive awareness. Contemporary Educational Psychology, 19, 460-475. Schraw, G. (1998). Promoting general metacognitive awareness. Instructional Science, 26(1-2), 113–125. Sharp, D., Cole, M.,
Lave, C., Ginsburg, H.P., Brown, A.L., & French, L.A. (1979). Education and cognitive development: The evidence from experimental research. Monographs of the Society for Research in Child Development, 44(1 & 2), 1-112. Topcu, A., & Ubuz, B. (2008). The effects of metacognitive knowledge on the pre-service teachers' participation in the asynchronous online forum. Educational Technology& Society, 11(3), 1-12. Topçu, A. &
Ubuz, B. (2005). The effect of the metacognitive abilities on the discussion performance in a direct instructional asynchronous online course. In C. Crawford et al. (Eds.), Proceedings of Society for Information Technology and Teacher Education International Conference 2005 (pp. 2351-2356). Chesapeake, VA: AACE.
Vandergrift, L., Goh, C., Mareschal, C., & Tafaghodtari, M. (2006). The metacognitive awareness listening questionnaire: development and validation. Language Learning, 56(3), 431-462. Worrall, L. & Bell, F. (2007) Metacognition and lifelong e-learning: A contextual and cyclical process. E-Learning, 4(2). Weimer, M. (2002). Learner-centered teaching: five key changes to practice. San Francisco: Jossey-Bass. White, B., &
These references have been extracted automatically and may have some errors. If you see a mistake in the references above, please contact info@learntechlib.org.