You are here: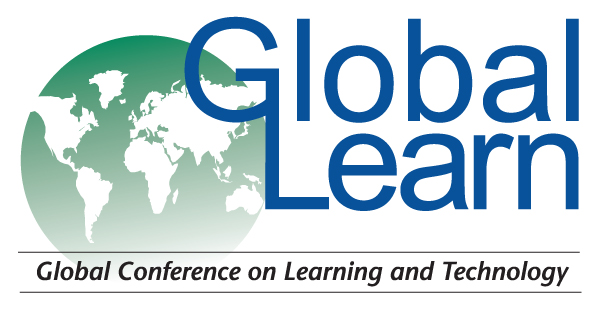 Investigating the Impact of Online ICT Tools in Government Sector Training: Towards Overcoming Barriers to Web-mediated Learning
PROCEEDINGS
Global Learn, in Melbourne, Australia ISBN 978-1-880094-85-3 Publisher: Association for the Advancement of Computing in Education (AACE)
Abstract
Barriers to online training are common across the corporate sector and government institutions. The rhetoric would have us believe that the online learning platform has emerged as an efficient and effective training environment. Yet the reverse is the reality. This paper looks at the known issues relating to barriers that deter business organisations and their employees to adopt e-Learning in the workplace. A review of the common barriers to online learning is presented. Studies reveal that the training effectiveness issue has been identified as a barrier to online learning adoption in both the management and employee levels of business organisations. With information and communications technology (ICT) tools embedded in an online learning system, their effects on learning outcomes are varied. This paper reports on the literature overview and the first focus group as a work-in-progress of a larger funded study underway in Australia that is investigating the impact of ICT tools used in web-mediated training environments in the government sector.
Citation
Vilela-Malabanan, C. & McKay, E. (2011). Investigating the Impact of Online ICT Tools in Government Sector Training: Towards Overcoming Barriers to Web-mediated Learning. In S. Barton, J. Hedberg & K. Suzuki (Eds.), Proceedings of Global Learn Asia Pacific 2011--Global Conference on Learning and Technology (pp. 2054-2059). Melbourne, Australia: Association for the Advancement of Computing in Education (AACE). Retrieved November 26, 2020 from https://www.learntechlib.org/primary/p/37443/.
References
View References & Citations Map
Adams, A. & Cox, A. (2008). Questionnaires, in-depth interviews and focus groups. In P. Cairns and A. Cox (Eds.), Research Methods for Human-Computer Interaction. University Press, Cambridge University, UK. Aguinis & Kraiger 2009. Benefits of training and development for individuals and teams, organizations, and society. The Annual Review of Psychology. 2009.60:451-474.
Berge, Z., & Giles, L. (2008). Implementing and sustaining e-Learning in the workplace. Esnault, L. (Ed.). International Journal of Web-Based Learning and Teaching Technologies, 3(3), IGI Global. Bonk, C. Olson, T., Wisher, R., and Orvis K. (2002). Learning from focus groups. Journal of Distance Education, 17 (3) 97-118.
Callan, V. (2009). How organisations are using e-learning to support national training initiatives. Available from http://www.flexible-Learning.net.au.Access Ed 20/02.10.
Clark, R., & Mayer, R. (2008). E-Learning and the science of instructions: Proven Guidelines for consumers and designers of multimedia learning. Second Edition. Pfeiffer. San Francisco, CA.
Clayton, B., Fisher, T., Harris, R., Bateman, A., & Brown, M. (2008). A study in difference: Structures and cultures in Australian registered training organisations. National Centre for Vocational Education Research Ltd. (NCVER). Adelaide, SA.
Dawe, S. (2003). Determinants of successful training practices in large Australian firms. NCVER. Adelaide, South Australia.
GSA (2009). Government Skills Australia Environmental Scan, Government Skills Australia. Accessed online from http:/ www.gsa.gov.au.Access ed on 04.01.2010.
Liu, C. (2007). Developing evaluation standards of e-learning courses by the Analytic Hierarchy Process. International Journal Services and Standards 3(4):476-490.
Lunt, P. And Livingstone, S. (1996). Rethinking the focus group in media and communications research. Journal of Communications, 46(2):79-98.
Merrill, D., Barclay, M., & Van Schaak, A. (2008). Prescriptive Principles for Instructional Design. In Spector, J.M., Merrill, D., van Merrienboer, & Driscoll, M. (Eds.) Handbook of Research in Educational Communications and Technology. Lawrence Erlbaum Associates. New York.
Paradise, A. & Mosley, J. (2009). Learning in a down economy. Learning Circuits: ASTD Source for E-learning. Retrieved from: http://www.astd.org On 10.11.10.
Pahl-Wostle, C. & Hare, M. (2004). Processes of Social Learning in Integrated Resource Management. Journal of Applied and Community Psychology, 14:193-206.
Riding, R. & Cheema, I. (1991). Cognitive styles: An overview and integration. Educational Psychology, 11(3 and 4), 1991. London: Routledge. In Riding, R., & Rayner, S. (2000). (Eds.) Cognitive Style Differences, Cognitive Styles and Learning Strategies: Understanding Style Differences in Learning and Behaviour. David Fulton Publishers. London: ISBN 1-85346480-5.
Rosenberg, M. (2001). E-learning: Strategies for Delivering Knowledge in the Digital Age. New York: McGraw-Hill.-664.
Samaras, H., Giouvanakis, T., Bousiou, D., & Tarabanis, K. (2010). Key Factors and New Directions of Multimedia Learning Design. In A. Tzanavari and N. Tsapatsoulis (Eds.), Affective, Interactive, and Cognitive Methods for E-Learning Design: Creating Optimal Education Experience. IGI Global. P.A. USA. 207-227.
Steffens, K. (2008). Technology Enhanced Learning Environments for Self-Regulated Learning: A Framework for Research. Technology, Pedagogy and Education, 17(3), 221–232 DOI:10.1080/14759390802383827.
Tai, L. (2008). Corporate e-Learning: An Inside View of IBM Solutions. Oxford University Press. New York. Tennyson, R., (2008). Learning theories and instructional design: A historical perspective of the linking model. In M. Spector, C. Ohrazda, A. Van Schaack & D. Wiley, (Eds), Innovations in Instructional Technology: Essays in Honor of M. David Merrill, Lawrence Erlbaum Associates, Inc., Mahwah, NJ. Acknowledgements: This research is funded through a three year ARC Linkage Project. The focus groups were
These references have been extracted automatically and may have some errors. Signed in users can suggest corrections to these mistakes.
Suggest Corrections to References