You are here: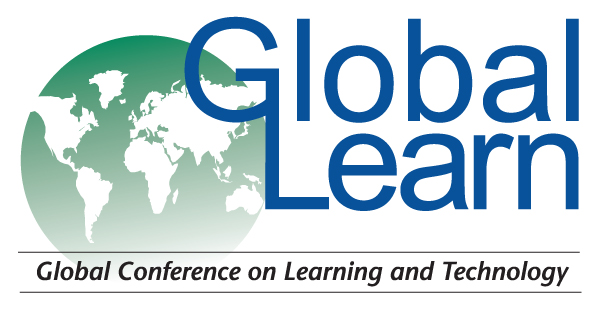 The Effects of Culture-Specific Rhetorical Structure on the Reading Comprehension performance of EFL Readers
PROCEEDINGS
Global Learn, in Penang, Malaysia ISBN 978-1-880094-79-2 Publisher: Association for the Advancement of Computing in Education (AACE)
Abstract
The purpose of this study is to investigate the question would EFL students' reading performance be affected by different linguistic contexts when reading expository texts. Four reading passages verified as inductively and deductively structured, given to four groups of 163 EFL college freshmen according to their levels of English reading proficiency. Each group read two passages in the opposite structure, either an inductive or deductive structure over a one week period for two consecutive weeks, and a set of 10 multiple-choice comprehension questions over the material covered in that text. The results showed that rhetorical text structure did have an effect on EFL students' reading comprehension. The result showed that a deductive organization was better comprehended by EFL students, they revealed quantitative differences in favor of the reading passage written with a deductive rhetorical structure. By comparison, the low language proficiency group scored lower within the two reading passages both in inductive and in deductive structured texts.
Citation
Lee, M.L. & Wu, P.h.N. (2010). The Effects of Culture-Specific Rhetorical Structure on the Reading Comprehension performance of EFL Readers. In Z. Abas, I. Jung & J. Luca (Eds.), Proceedings of Global Learn Asia Pacific 2010--Global Conference on Learning and Technology (pp. 701-707). Penang, Malaysia: Association for the Advancement of Computing in Education (AACE). Retrieved December 5, 2019 from https://www.learntechlib.org/primary/p/34252/.
Keywords
References
View References & Citations Map
Afflerbach, P.P. (1990). The influence of prior knowledge and text genre on readers' prediction strategies. Journal of Reading Behavior 22(2), 131-148.
Bernhardt, K. (1995). Interpreting relationship between L1 and L2 reading: Consolidating the linguistic threshold and the linguistic interdependence hypotheses. Oxford Journals. 16(1), 15-34.
Carrell, P.L. (1987). Content and formal schemata in ESL reading. TESOL Quarterly, 21, 461-481.
Chu, S. & Charney, H. (2002). Cultural representations of rhetorical conventions: The effects on reading recall. TESOL Quarterly, 36(4), 511-541.
Fukuoka, W. (1998). Structural norms in Japanese expository texts. Diss., University of Washington.
Grabe, W., & Kaplan, R.B. (1989). Writing in a second language: Contrastive rhetoric. In D.M. Johnson& D.H. Roen (Eds.), Richness in writing: Empowering ESL students (pp. 263-283). White Plains, NY: Longman.
Hartley, J., & Sydes, M. (1997). Are structured abstracts easier to read than traditional ones? Journal of Research in Reading, 20(2), 122-136.
Kintsch, W., & Yarbrough. J.C. (1982). Role of rhetorical structure in text comprehension. Journal of Educational Psychology, 74, 823-834.
Leki, I. (1991). Twenty-five years of contrastive rhetoric: Text analysis and writing pedagogies. TESOL Quarterly, 25. 123-143.
Leki, I. (1992). Understanding ESL writers: A guide for teachers. Portsmouth, NH: Boynton/Cook.
Mika. I. (1994). The effects of rhetorical organization in English and Japanese: schema theoretic approach to second language reading. Unpublished thesis. University of Illinois.
Muth, K.D. (1987). Structure Strategies for Comprehending Expository Text. Reading Research and Instruction, 27(1), 66-72.
Normant, N. (1986). Organizational structure of Chinese subjects writing in Chinese and in ESL Journal of the Chinese Language, 21(3),49-72.
Raymond, P.M. (1993). The effects of structure strategy training on the recall of expository prose for university students reading French as a second language. The Modern Language Journal, 77, 445-458.
Ricento, T. (1989). An analysis of the rhetorical structure of English and Japanese Editorials. Issues and Developments in English and Applied Linguistics, 4, 51-67.
Sadoski. (1997). Sensory-cognitive factors in the controversy over reading instruction. The Journal of Developmental and Learning Disorders. 1(1), 1-39.
Spiro, R.J, & Taylor, B.M (1980). On Investigating Children's Transition from Narrative to Expository Discourse: The Multidimensional Nature of Psychological Text Classification. Technical Report No. 195.
Stone, R.J., & Kinzer, C.K. (1985). Effects of English/Spanish Language Pattern Differences on ESL Learners' Comprehension of English Text. ED. 1-16.
Taylor, B.M. (1982). Text structure and children's comprehension and memory for expository material. Journal of Educational Psychology, 74(3), 323-340.
Tina, G.S. (1990). The effects of rhetorical organization in expository prose on ESL readers in Singapore. RELC. Journal, 21(2), 1-13.
Walker, B.J. (2000). Diagnostic teaching of reading: Techniques for instruction and assessment (4th ed.). Upper Saddle River, NJ: Merrill/Prentice Hall.
Williams, L.K.(1992). Content area comprehension and metacognitive reading strategies. Diss., Pacific Union College.
Zima de Mora, R.A. (1993). Contrastive rhetoric: An analysis of Spanish rhetorical structure for use in ESL writing. Diss., St. Cloud State University.
These references have been extracted automatically and may have some errors. Signed in users can suggest corrections to these mistakes.
Suggest Corrections to References