You are here: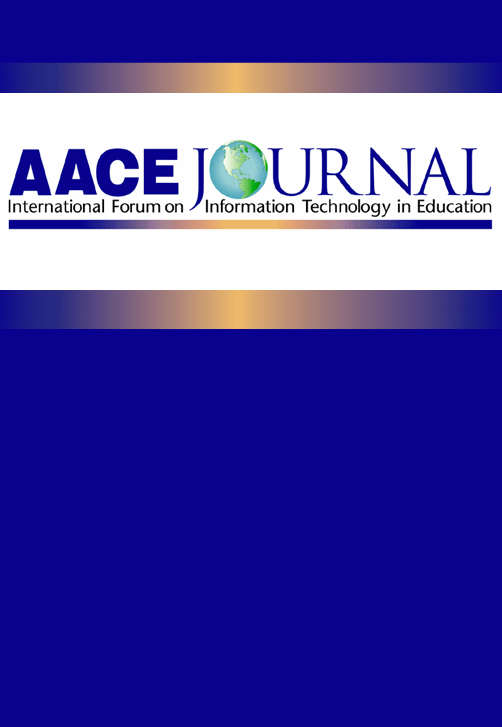 The Effects of Using a Bulletin Board on Gender Differences in Program Coding
Article
Eshaa Alkhalifa, University of Bahrain, Bahrain
AACE Journal Volume 16, Number 2, ISSN 1065-6901 Publisher: Association for the Advancement of Computing in Education (AACE), Chesapeake, VA
Abstract
Gender studies across the world have produced a wealth of information generated by studies that seek to investigate the existence of a distinction between genders in mathematical-based courses, such as Computer Science courses. However, the Middle Eastern Region remained unexplored largely throughout this effort due to gender segregation during K-12 schooling and social restrictions. Therefore, the work presented here will study the effects of cross-gender, online collaboration on Middle Eastern women. A preliminary study is initially conducted on data collected from 1667 students who studied at the College of IT in order to set a benchmark for comparison between genders. Results indicated that female students lagged in Computer Science courses, leading to the introduction of an online bulletin board to allow interaction between all students in the Internet Technology course. Female students who participated in the board were compared to female students who did not participate, to male students who participated and to male students who did not participate. Results revealed a positive effect on the self-efficacy of female students who participated in the board as they electively chose to attempt a bonus task in greater numbers than their peers who did not participate in the task. These results inform us that these women lack the interaction required to be able to be competitive with their male peers. Additionally, it raises a question of whether classical instructional strategies are more aligned with male student requirements than with female student requirements, which place women at a disadvantaged position in class.
Citation
Alkhalifa, E. (2008). The Effects of Using a Bulletin Board on Gender Differences in Program Coding. AACE Journal, 16(2), 95-114. Chesapeake, VA: Association for the Advancement of Computing in Education (AACE). Retrieved July 18, 2019 from https://www.learntechlib.org/primary/p/24256/.
Keywords
References
View References & Citations Map
Bandura , A. (1977). Se lf-eff icacy : Towards a unifying theory of behavioral change. Psychological Review, 84, 191-215.
Bandura , A . (1994) . Self-efficacy . In V .S . Ramachaudran (Ed .) , Encyc lopedia of human behavior (Vol. 4, pp. 71-81). New York: Academic Press.
Behar-Molad , C. (2000). Women weaving webs: Will women rule the internet? Houston, TX: CMB Press.
Bouffard-Bouchard , T. (1990). Influence of self-efficacy on performance in a cognitive task. The Journal of Social Psychology, 130, 353-363.
Bruckman, A. (2004). Coevolution of technological design and pedagogy in an online learning community. In S. Barab, R. Gray, & J. Gray
Cohen, J. (1969). Statistical power analysis for the behavioral sciences. New York: Academic Press.
Gerrard, L. (1999). Feminist research in computers and composition. In K. Blair& P. Takayoshi (Eds.) , Feminist cyberscapes: Essays on gender in electronic spaces. Stamford , CT: Ablex.
Herring, S. (1993). Gender and democracy in computer-mediated communication [Special issue]. Electronic Journal of Communication, 3(2).
Huff , C . (2002) . Gender , software design , and occupat ional equity . SIGCSE Bulletin , 34(2) , 112-115 .
McAdams, M. (1996). Gender without bodies. Computer Mediated Communications, 3(3). Retrieved February 10, 2007, from http://www.december.com/cmc/mag/1996/mar/mcadams.html
Spender , D. (2000). The digital lifestyle for women. Computer Professionals for Social Responsibility, 18(1).
Turkle, S. (1995). Life on the screen. New York: Simon& Schuster.
These references have been extracted automatically and may have some errors. Signed in users can suggest corrections to these mistakes.
Suggest Corrections to References