You are here: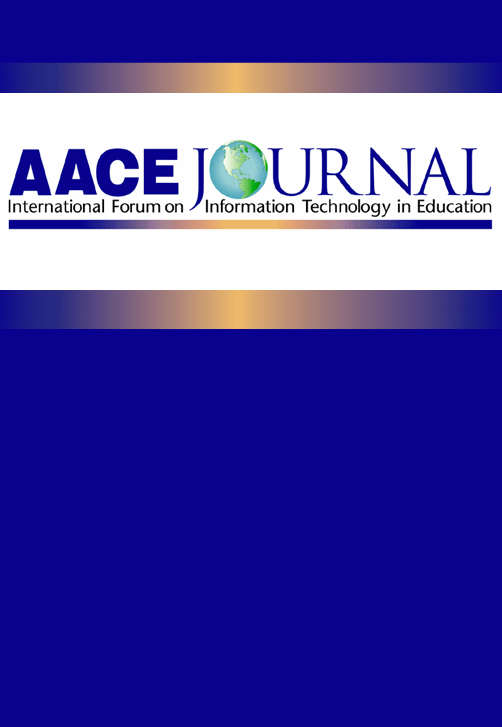 The Digital Playground: Kindergarten Children Learning Sign Language Through Multimedia
Article
Kirsten Ellis, Monash University, Australia ; Kathy Blashki, Deakin University, Australia
AACE Journal Volume 15, Number 3, ISSN 1065-6901 Publisher: Association for the Advancement of Computing in Education (AACE), Chesapeake, VA
Abstract
The article discusses a study of 4-5 year old children's use of technology to assist and enhance the acquisition of a play lexicon within a formal educational setting. The new language system to be learned was Auslan, a signed/nonverbal language. A purpose specific software program was developed by the authors, "Auslan Kids," in order to test and evaluate the efficacy of multimedia in learning language particularized by visual representation. Of particular interest to the authors was the influence of characters and interaction styles on learning outcomes. Kindergarten children managed to learn Australian Sign Language vocabulary from the multimedia software package. Children that interacted with the software either by making the signs or by making selections with the mouse learned more signs that those who were passive and only watched. Children showed a slight preference for learning from a female over a superhero or puppet.
Citation
Ellis, K. & Blashki, K. (2007). The Digital Playground: Kindergarten Children Learning Sign Language Through Multimedia. AACE Journal, 15(3), 225-253. Chesapeake, VA: Association for the Advancement of Computing in Education (AACE). Retrieved August 24, 2019 from https://www.learntechlib.org/primary/p/21944/.
Keywords
References
View References & Citations Map
Bornstein, H., & King, J.I. (1984). Functional signs: A new approach from simple to complex. Baltimore, MD: University Park Press.
Capirci, O., Iverson, J.M., Montanari, S., & Volterra, V. (2002). Gestural, signed and spoken modalities in early language development: The role of linguistic input. Bilingualism: Language and Cognition, 5(1), 25-37.
Cheek, A., Cormier, K., Repp, A., & Meier, R.P. (2001). Prelinguistic gesture predicts mastery and error in the production of early signs. Language, 77(2), 292-323.
Cooper, B. (2002). The use of sign language to teach reading to kindergartners. The Reading Teacher, 56 (2), 116-123.
Daniels, M. (1994). The effect of sign language on hearing children's language development. Communication Education, 43, 291-298.
Daniels, M. (1997). Teacher enrichment of prekindergarten curriculum with sign language. Journal of Research in Childhood Education, 12(1), 27-33.
Daniels, M. (2001). Dancing with words: Signing for hearing children's literacy. Westport, CT: Bergin & Garvey. Association for the Advancement of Computing In Education Journal, 15(3)
Drasgow, E. (1998). AmericanS ign Language as a pathway to linguistic competence. Exceptional Children, 64(3), 329-342.
Ellis, K., & Blashki, K. (2004, July). Children, Australians ign language and the web; The possibilities. Paper presented at the Ausweb04, The tenth Australian WorldWide Web Conference, Queensland, Australia.
Ellis, K., Blashki, K., & Quigley, M. (2004, May). Children, sign language and multimedia: Aan ideal match. Paper presented at the Information Resource Management Association Conference, New Orleans, LA.
Good, L.A., Feekes, J., & Shawd, B. (1993). Let your fingers do the talking: Hands-on language learning through signing. Childhood Educa-t ion, 70(2), 81-83.
Hudson, G. (2000). Essential introductory linguistics. Ma lden, MA : Blackwell.
Kelly, R.R. (2003). Usingtechnology to meet the development needs and deaf students to improve their mathematical word problemsolving skills. Mathematics and Computer Education, 37(1), 8-15.
Lederberg, A.R., Prezbindowski, A.K., & Spencer, P.E. (2000). Wordlearn ing skills of deaf preschoolers: The development of novel map-p ing and rapid word-learnings trategies. Child Development, 71(6) , 1571-1585.
McLaughlin, B. (1992). Myths and misconceptions about second language learning: What every teacher needs to un learn. Santa Cruz, CA: Na-t iona l Center for Research onCul tural Diversity and Second Language Learning.
Schein, J.D., & Mark, M. (1984). Speaking the language of sign: The art and science of signing (1st ed.). Garden City, NY: Doubleday.
Schmidt, R. (1990). The role of consciousness in second language learning. Applied Linguistics, 11 (2), 129-158. Smith, D.K. (Writer) , Smith, D.K. (Director) (1996). In asma l l valley [1 videocassette]. In O.C.A.B. Productions (Producer). Sydney: Video Classroom.
These references have been extracted automatically and may have some errors. Signed in users can suggest corrections to these mistakes.
Suggest Corrections to References