You are here: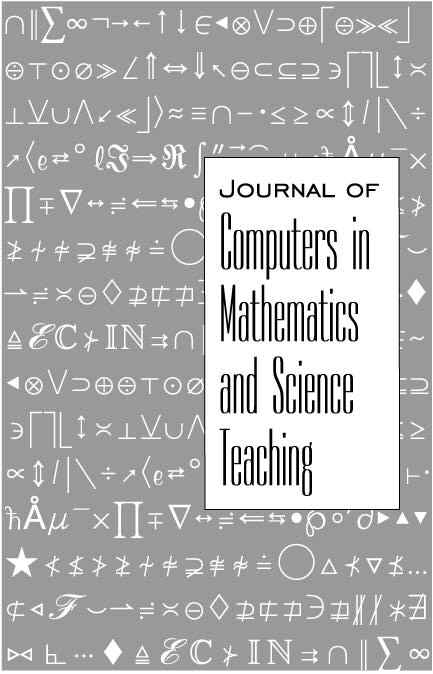 A Framework For Examining Teachers' Noticing Of Mathematical Cognitive Technologies
article
JCMST Volume 36, Number 1, ISSN 0731-9258 Publisher: Association for the Advancement of Computing in Education (AACE), Waynesville, NC USA
Abstract
In this paper, we propose the mathematical cognitive technology noticing framework for examining how mathematics teachers evaluate, select, and modify mathematical cognitive technology to use in their classrooms. Our framework is based on studies of professional and curricular noticing and data collected in a study that explored how secondary mathematics teachers evaluate mathematical cognitive technology. We categorized the teachers' evaluation processes into three noticing actions: teachers' attention to features of technology, interpretation of the features, and response to these features based on their attentions and interpretations. We developed a list of activities for each of the three teacher noticing actions. We then illustrate each action and activity of our framework with examples from our work with teachers. We believe this framework can allow researchers to document the evolution of teachers' evaluation of mathematical cognitive technology and provide educators with a lens for developing teachers' ability to evaluate mathematical cognitive technology.
Citation
Smith, R., Shin, D. & Kim, S. (2017). A Framework For Examining Teachers' Noticing Of Mathematical Cognitive Technologies. Journal of Computers in Mathematics and Science Teaching, 36(1), 41-63. Waynesville, NC USA: Association for the Advancement of Computing in Education (AACE). Retrieved January 17, 2021 from https://www.learntechlib.org/primary/p/177957/.
References
View References & Citations Map
Battey, D., Kafai, Y., & Franke, M. (2005). Evaluation of mathematical inquiry in commercial rational number software. In C. Vrasidas& G. Glass (Eds.), Preparing teachers to teach with technology (pp. 241–256). Greenwich,
Bos, B. (2009). Virtual math objects with pedagogical, mathematical, and cognitive fidelity. Computers in Human Behavior, 25(2), 521–528.
Dick, T. (2008). Keeping the faith: Fidelity in technological tools for mathematics education. In G. Blume & M. Heid (Eds.), Research on technology and the teaching and learning of mathematics: Syntheses, cases, and perspectives. Vol. 2: Cases and perspectives (pp. 333–339). Greenwich, CT: Information
International Society for Technology in Education. (2000). National educational technology standards for students: Connecting curriculum and technology. Eugene, OR: Author.
Jacobs, V.R., Lamb, L.L.C., & Philipp, R.A. (2010). Professional noticing of children's mathematical thinking. Journal for Research in Mathematics Education, 41(2), 169–202.
Johnston, C., & Suh, J. (2009). Pre-service elementary teachers planning for math instruction: Use of technology tools. In I. Gibson et al. (Eds.), Proceedings of Society for Information Technology& Teacher Education International Conference 2009 (pp. 3561–3566). Chesapeake, VA: Association
Koehler, M.J., Mishra, P., Kereluik, K., Shin, T.S., & Graham, C.R. (2014). The technological pedagogical content knowledge framework. In J.M. Spector, M.D. Merrill, J. Elen, & M.J. Bishop (Eds.), Handbook of research on educational communications and technology (pp. 101–111). New
Mishra, P. & Koehler, M.J. (2008, March). Introducing technological pedagogical content knowledge. Paper presented the Annual Meeting of the American Educational Research Association, New York.
Moyer, P.S., Salkind, G., & Bolyard, J.J. (2008). Virtual manipulatives used by K-8 teachers for mathematics instruction: The influence of mathematical, cognitive, and pedagogical fidelity. Contemporary Issues in Technology and Teacher Education, 8(3), 202–218.
Pea, R.D. (1987). Cognitive technologies for mathematics education. In A. Schoenfeld (Ed.), Cognitive science and mathematics education (pp. 89–
Sherin, M.G., Russ, R.S., & Colestock, A.A. (2011). Assessing mathematics teachers' in-the-moment noticing. In M.G. Sherin, V.R. Jacobs, & R.A. Philipp (Eds.), Mathematics teacher noticing: Seeing through teachers' eyes (pp. 79–94). New York: Routledge.
Smith, M.S., & Stein, M.K. (2011). Five practices for orchestrating productive mathematics discussions. Reston, VA: National Council of Teachers of Mathematics.
Smith, R.C., Kim, S., & McIntyre, L. (2016). The relationships between prospective middle grades mathematics teachers' beliefs and TPACK. Canadian Journal of Science, Mathematics and Technology Education, 16(4), 359–373.
Smith, R.C., Shin, D., Kim, S. (2017). Prospective and current secondary mathematics teachers' criteria for evaluating mathematical cognitive technologies. International Journal of Mathematical Education in Science and Technology, 48(5), 659–681.
Star, J.R., & Strickland, S.K. (2008). Learning to observe: Using video to improve preservice mathematics teachers' ability to notice. Journal of Mathematics Teacher Education, 11(2), 107–125.
Trocki, A. (2014). Evaluating and writing dynamic geometry tasks. Mathematics Teacher, 107(9), 701–705.
Van Es, E.A., & Sherin, M.G. (2008). Mathematics teachers' "learning to notice" in the context of a video club. Teaching and Teacher Education, 24(2), 244–276.
Wager, A.A. (2014). Noticing Children's Participation: Insights Into Teacher Positionality Toward Equitable Mathematics Pedagogy. Journal for Research in Mathematics Education, 45(3), 312–350.
These references have been extracted automatically and may have some errors. Signed in users can suggest corrections to these mistakes.
Suggest Corrections to References