You are here: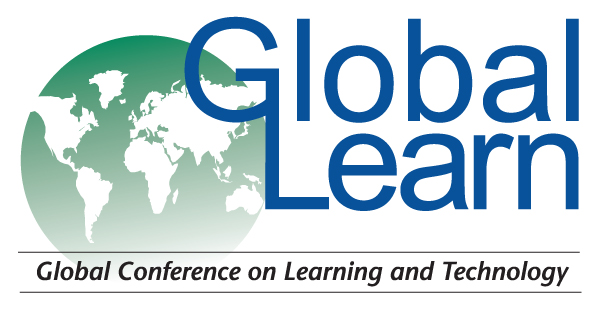 Education Reform with Technology - Difficult but Worth the Effort?
PROCEEDING
Global Learn, in Limerick, Ireland Publisher: Association for the Advancement of Computing in Education (AACE)
Abstract
Abstract: It is important for education to adapt if it is going to meet the needs of today's learners. Technology should not be seen as a threat by educators, but rather a tool to help them change and reform how they do things in the educational ecosystem. This paper looks at how technology can impact the fields of language learning, soft skills, and the Science, Technology, Engineering, and Mathematics (STEM) subjects. It provides a brief outline of how technology can improve the educational experience of students. This paper looks at possible issues that may arise with the use of technology in education to date and aims to show that technology can make the educational experience for educators and learners more comprehensive, flexible, beneficial and perhaps more enjoyable. Although integrating technology in education can be challenging, it is worth the effort.
Citation
Ward, M. & Costello, E. (2016). Education Reform with Technology - Difficult but Worth the Effort?. In Proceedings of Global Learn-Global Conference on Learning and Technology (pp. 71-78). Limerick, Ireland: Association for the Advancement of Computing in Education (AACE). Retrieved September 24, 2022 from https://www.learntechlib.org/primary/p/172711/.
References
View References & Citations Map
Barczyk, C.C., & Duncan, D.G. (2013). Facebook in higher education courses: An analysis of students' attitudes, community of practice, and classroom community. International Business and Management, 6(1), 1-11.
Beatty, K. (2013). Teaching& Researching: Computer-assisted language learning. Routledge.
Beetham, H., & Sharpe, R. (2013). Rethinking pedagogy for a digital age: Designing for 21st century learning. Routledge.
Buckingham, D. (2013). Beyond technology: Children's learning in the age of digital culture. John Wiley& Sons.
Chappuis, S., & Chappuis, J. (2007). The best value informative assessment.
Cuban, L., & Jandrić, P. (2015). The dubious promise of educational technologies: Historical patterns and future challenges. ELearning and Digital Media, 12(3-4), 425-439.
Dahlstrom, E., Walker, J.D., & Dziuban, C. (2013). ECAR study of undergraduate students and information technology. 2013.
Dearing, R. (1997). Higher education in the learning society. The National Committee of Inquiry into Higher Education, Report for the National Committee of Inquiry into Higher Education.
Dörnyei, Z., & Csizér, K. (1998). Ten commandments for motivating language learners: Results of an empirical study. Language teaching research, 2(3), 203-229.
Duncan, G.J., & Dunifon, R. (2012). Soft-Skills" and long-run labor market success. Research in labor economics, 35, 313-339.
Ertmer, P.A., Ottenbreit-Leftwich, A.T., Sadik, O., Sendurur, E., & Sendurur, P. (2012). Teacher beliefs and technology integration practices: A critical relationship. Computers& Education, 59(2), 423-435.
Gardner, R.C., & Lalonde, R.N. (1985). Second Language Acquisition: A Social Psychological Perspective.
Gikas, J., & Grant, M.M. (2013). Mobile computing devices in higher education: Student perspectives on learning with cellphones, smartphones& Social media. The Internet and Higher Education, 19, 18-26.
Golonka, E.M., Bowles, A.R., Frank, V.M., Richardson, D.L., & Freynik, S. (2014). Technologies for foreign language learning: a review of technology types and their effectiveness. Computer Assisted Language Learning, 27(1), 70-105.
King, A. (1993). From sage on the stage to guide on the side. College teaching, 41(1), 30-35.
Kirkwood, A., & Price, L. (2005). Learners and learning in the twenty-first century: what do we know about students' attitudes towards and experiences of information and communication technologies that will help us design courses?. Studies in higher education, 30(3), 257-274.
Kurhila, J., & Vihavainen, A. (2015). A purposeful MOOC to alleviate insufficient CS education in Finnish schools. ACM Schools& Quest; Some Answers and Many Questions. ACM Transactions on Computing Education (TOCE), 15(2), P.5.
Laurillard, D. (2013). Forward to the Second Edition. In Beetham, H. And Sharpe, R., 2013. Rethinking pedagogy for a digital age: Designing for 21st century learning. Routledge. Xvii-xxi.
Levy, M. (1997). Computer-assisted language learning: Context and conceptualization. Oxford University Press.
Maandag, D.W., Deinum, J.F., Hofman, A.W., & Buitink, J. (2007). Teacher education in schools: An international comparison. European Journal of Teacher Education, 30(2), 151-173.
MacIntyre, P.D., Noels, K.A., & Clément, R. (1997). Biases in self-ratings of second language proficiency: The role of language anxiety. Language learning, 47(2), 265-287.
Macleod, H. & Sinclair, C. (2015). Digital Learning and the Changing Role of the Teacher.
MacPhail, A. (2015). The story of representation (or not) in contributing to the development of a school subject curriculum. Irish Educational Studies, 34(3), 225-243.
Murphy, L., & Hurd, S. (2011). Fostering learner autonomy and motivation in blended teaching.
Nicholls, G. (2014). Professional development in higher education: New dimensions and directions. Routledge.
Nixon, J. (2004). Education for the good society: The integrity of academic practice. London Review of Education, 2(3), 245-252.
OSP (2016). Open Source Physics. Available at: http://www.opensourcephysics.org/ Pijl, S.J., Meijer, C.J., & Hegarty, S. (1997). Inclusive education: A global agenda. Psychology Press.
Schrum, L., & Hong, S. (2002). Dimensions and strategies for online success: Voices from experienced educators. Journal of Asynchronous Learning Networks, 6(1), 57-67.
Settle, A., Vihavainen, A., & Miller, C.S. (2014). Research Directions for Teaching Programming Online. In Proceedings of the International Conference on Frontiers in Education: Computer Science and Computer Engineering (FECS) (P. 1). The Steering
Taylor, P.G. (1998). Institutional change in uncertain times: lone ranging is not enough. Studies in Higher Education, 23(3), 269279.
Vivian, R., Falkner, K., & Falkner, N. (2014). Addressing the challenges of a new digital technologies curriculum: MOOCs as a scalable solution for teacher professional development. Research in Learning Technology, 22.
Vygotsky, L. (1987). Zone of proximal development. Mind in society: The development of higher psychological processes, 5291.
Ward, M. (2004). The additional uses of CALL in the endangered language context. ReCALL, 16(02), 345-359.
Warschauer, M., & Healey, D. (1998). Computers and language learning: An overview. Language teaching, 31(02), 57-71.
Yaron, D., Karabinos, M., Lange, D., Greeno, J.G., & Leinhardt, G. (2010). The ChemCollective—virtual labs for introductory chemistry courses.Science, 328(5978), 584-585.
These references have been extracted automatically and may have some errors. Signed in users can suggest corrections to these mistakes.
Suggest Corrections to References