You are here: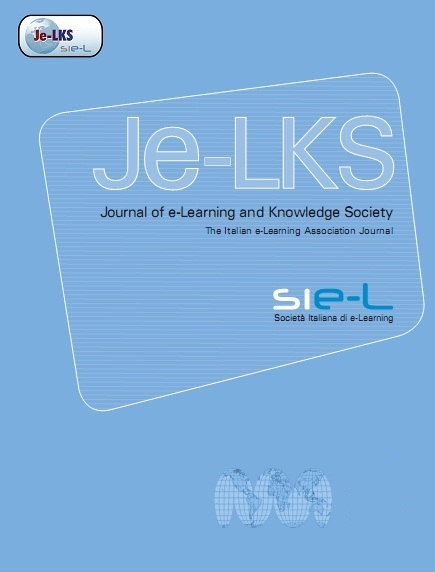 Teaching Adaptively for Music - Smart Opportunities Emerging from the Representation of Score Notation
ARTICLE
Journal of e-Learning and Knowledge Society Volume 10, Number 3, ISSN 1826-6223 e-ISSN 1826-6223 Publisher: Italian e-Learning Association
Abstract
Many developmental approaches have been proposed in literature and are currently in use in order to define music education curricula for young students. In this context, our research aims at describing a computer-based framework for the adaptive teaching of music. A music learning environment can be considered as smart when adaptive technologies are employed in order to improve student performance. Research about effective teaching practice pointed out that adaptive instruction can provide school settings able to foster inclusion and differentiation. Adaptive instruction can be conceptually defined as a set of alternative didactic strategies – either formal or non-formal – within a curricular program which are able to meet the student needs In our proposal, adaptivity is involved from two different points of view: in fact, adaptivity implies the possibility for the teacher to choose an instruction method fit for the single student, as well as the possibility for students to have a learning environment modelled on their personal plans, , preferences and previous knowledge. This approach can be adopted thanks to a computer-based framework including: i) a multi-layer format to encode music, and ii) an advanced application oriented to music educational content design and fruition. As regards the former aspect, we will briefly introduce an international standard known as IEEE 1599, specifically designed for the comprehensive description of music. The latter aspect will be covered by a software prototype – namely an advanced media player supporting IEEE 1599 documents – freely available via Web.
Citation
Ludovico, L. & Mangione, G. (2014). Teaching Adaptively for Music - Smart Opportunities Emerging from the Representation of Score Notation. Journal of e-Learning and Knowledge Society, 10(3),. Italian e-Learning Association. Retrieved December 7, 2022 from https://www.learntechlib.org/p/150729/.
Keywords
References
View References & Citations Map
Aleven, V., Mclaren, B., Roll, I., & Koedinger, K. (2006), Toward meta-cognitive tutoring: A model of help seeking with a Cognitive Tutor. International Journal of Artificial Intelligence in Education, 16(2), 101-128.

Baggi, D.L., & Haus, G.M. (2013), Music Navigation with Symbols and Layers: Toward Content Browsing with IEEE 1599 XML Encoding. John Wiley& Sons.

Baratè, A., Haus, G., & Ludovico, L.A. (2009), IEEE 1599: a new standard for music education. Proceedings of ELPUB 2009, 13th International Conference on Electronic Publishing: Rethinking Electronic Publishing: Innovation in Communication Paradigms and Technologies, Edizioni Nuova Cultura, 29-45.

Baratè, A., & Ludovico, L.A. (2012), New Frontiers in Music Education through the IEEE 1599 Standard. Proceedings of the 4th International Conference on Computer Supported Education (CSEDU 2012), SciTePress, pp. 146-151,

Bell, B.S., & Kozlowski, S.W. (2002). Adaptive guidance: Enhancing self-regulation, knowledge, and performance in technology-based training. Personnel Psychology, 55(2), 267-306.

Birch, J.W., & Reynolds, M.C. (1982), Special education as a profession. Exceptional Education Quarterly.

Bruehwiler, C., Baer, M., Beck, E., Bischoff, S., Guldimann, T., Müller, P., & Vogt, F. (2004, August), Adaptive Teaching Competency– A New Approach to Teacher Education. In First International Conference of EARLI SIG, 11, 11-14.

Bunt, A., Conati, C., & McGrenere, J. (2004, January), What role can adaptive support play in an adaptable system?. In Proceedings of the 9th international conference on Intelligent user interfaces (pp. 117-124). ACM.

Bunt, A., Carenini, G., & Conati, C. (2007), Adaptive content presentation for the web. In The adaptive web (pp. 409-432). Springer Berlin Heidelberg.

Cage, J. (1969), Notations. Something Else Press. Corbalan, Gemma, Liesbeth Kester, and Jeroen JG van Merriënboer (2008), Selecting learning tasks: Effects of adaptation and shared control on learning efficiency and task involvement. Contemporary Educational Psychology 33.4 (2008): 733-756.

Corno, L.Y.N. (2008), On teaching adaptively. Educational Psychologist, 43(3), 161173.

Corno, L., & Snow, R.E. (1986), Adapting teaching to individual differences among learners. Handbook of research on teaching, 3, 605-629.

Curwen, J. (1880), The standard course of lessons and exercises in the tonic sol-fa method of teaching music. Tonic Sol-Fa Association.

Emond, B., & Comeau, G. (2013), Cognitive modelling of early music reading skill acquisition for piano: A comparison of the Middle-C and Intervallic methods. Cognitive Systems Research, 24, 26-34.

Feierabend, J.M. (2001), Conversational solfege. Chicago: GIA Publications, Inc.

Gordon, E.E. (1979), Developmental music aptitude as measured by the Primary Measures of Music Audiation. Psychology of Music, 7(1), 42-49.

Jeremić, Z., Jovanović, J., & Gašević, D. (2009), Evaluating an intelligent tutoring system for design patterns: The DEPTHS experience. Educational Technology& Society, 12(2), 111-130.

Harris, A. (1998), Effective teaching: A review of the literature. School Leadership& Management, 18(2), 169-183.

Hatzilygeroudis, I., Koutsojannis, C., & Papachristou, N. (2008), Improving the Adaptiveness of an e-Learning System. In Advances in Semantic Media Adaptation and Personalization (pp. 177-198). Springer Berlin Heidelberg.

Haus, G., & Longari, M. (2005), A multi-layered, time-based music description approach based on XML. Computer Music Journal, 29(1), 70-85.

Hopper, M.E. (2008), Music in Bloom: Music Maps. Pass It On!, winter/spring 2008. Children's Music Network.

Hultberg, C. (2002), Approaches to music notation: The printed score as a mediator of meaning in Western tonal tradition. Music Education Research, 4(2), 185-197.

Hutchinson, A. (1961), Labanotation: The system for recording movement.

Jaques-Dalcroze, E. (1918), The Eurhythmics of Jaques-Dalcroze. Small, Maynard.

Krolick, B. (1996), New international manual of Braille music notation. World Blind Union.

Kuo, Y.T., & Chuang, M.C. (2013), A proposal of a color music notation system on a single melody for music beginners. International Journal of Music Education, 31(4), 394-412.

Lee, P.N. (2013), Self-invented notation systems created by young children. Music Education Research, 15(4), 392-405.

Mangione, G.R. (2013), Istruzione adattiva. Approcci, tecniche e tecnologie. Lecce: Pensa Editore. May, E. (Ed.). (1983), Musics of many cultures: An introduction. Univ of California Press.

Miranda, M.L. (2000), Developmentally appropriate practice in a Yamaha music school. Journal of Research in Music Education, 48(4), 294-309.

Nijs, L., & Leman, M. (2014), Interactive technologies in the instrumental music classroom: A longitudinal study with the Music Paint Machine. Computers& Education, 73, 40-59.

Orff, C. (1973), Orff Schulwerk, Past and Future. American Orff-Schulwerk Association.

Park, O.C., & Lee, J. (2003). Adaptive instructional systems. Educational Technology Research and Development, 25, 651-684.

Perry, T.M. (1995), Music lessons for children with special needs. Jessica Kingsley Publishers.

Reynolds, M.C., & Birch, J.W. (1988), Adaptive mainstreaming: A primer for teachers and principals. New York: Longman.

Rogers, G.L. (1991), Effect of color-coded notation on music achievement of elementary instrumental students. Journal of Research in Music Education, 39(1), 64-73.

Romero, C., Ventura, S., Zafra, A., & Bra, P.D. (2009), Applying Web usage mining for personalizing hyperlinks in Web-based adaptive educational systems. Computers& Education, 53(3), 828-840.

Rosenshine, B.R., & Stevens, R. (1986), Teaching functions. In M.C. Wittrock (Ed.), Handbook of research on teaching (3rd ed., pp. 376-391). New York: Macmillan

Rosenshine, B. (1995), Advances in research on instruction. The Journal of educational research, 88(5), 262-268.

Schwab, I., & Kobsa, A. (2002), Adaptivity through unobstrusive learning. KI,16(3), 5-9.

Shute, V.J., & Zapata-Rivera, D. (2007), Adaptive technologies. Handbook of research for educational communications and technology, 277-294.

Smith, C.R. (1987), Adapting Piano Instruction to the Needs of Children with Learning Disabilities: Merging Research& Intervention.

Steele, A.L., & Fisher, C. (2011), Adaptive piano teaching strategies: for the physically and cognitively handicapped piano student. The Free Library.

Stone, K. (1980), Music Notation In The Twentieth Century: A Practical Guidebook Author: Kurt Stone, Publisher: WW Norton& Company.

Sultanova, A., & Bariseri, N. (2012), Conjectural and absolute solmization systems in music. Procedia – Social and Behavioral Sciences, 46, 2394-2397.

Suzuki, S., Mills, E., & Murphy, T.C. (1973), The Suzuki Concept: An introduction to a successful method for early music education. Diablo Press, Incorporated.

Tobin, K., & Fraser, B.J. (1991), Learning from exemplary teachers. Effective teaching: Current research, 217-236.

Triantafillou, E., Pomportsis, A., Demetriadis, S., & Georgiadou, E. (2004), The value of adaptivity based on cognitive style: an empirical study. British Journal of Educational Technology, 35(1), 95-106.

Tseng, J.C., Chu, H.C., Hwang, G.J., & Tsai, C.C. (2008), Development of an adaptive learning system with two sources of personalization information.Computers & Education, 51(2), 776-786.

Vacchi, V. (2013), Musica Live. Milano: Pearson.

Vandewaetere, M., Desmet, P., & Clarebout, G. (2011), The contribution of learner characteristics in the development of computer-based adaptive learning environments. Computers in Human Behavior, 27(1), 118-130.

Wang, M.C. (1980), Adaptive instruction: Building on diversity. Theory into practice, 19(2), 122-128.

Westwood, P. (2013), Inclusive and Adaptive Teaching: Meeting the challenge of diversity in the classroom. Routledge.

Westwood, P. (1996), Effective teaching. Australian Journal of Teacher Education, 21(1), 5.

Woolf, B., Burleson, W., Arroyo, I., Dragon, T., Cooper, D., & Picard, R. (2009), Affectaware tutors: recognising and responding to student affect. International Journal of Learning Technology, 4(3), 129-164.

Zimmermann, S.A. (2005), Modified stave notation– encouraging musical independence through accessible, easily produced scores. In International Congress Series, 1282, 1113-1117. Elsevier.
These references have been extracted automatically and may have some errors. Signed in users can suggest corrections to these mistakes.
Suggest Corrections to References