You are here: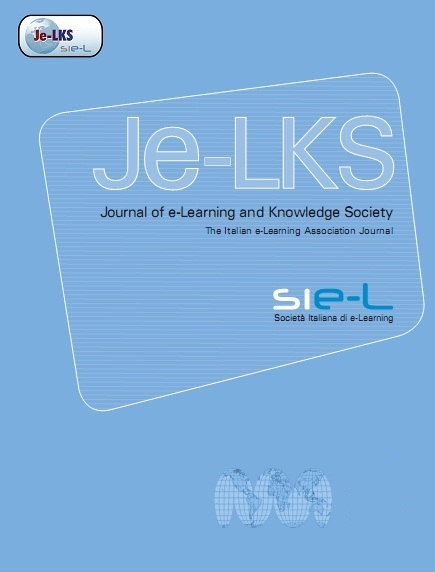 A smart methodology to improve the story-building process
ARTICLE
Journal of e-Learning and Knowledge Society Volume 11, Number 1, ISSN 1826-6223 e-ISSN 1826-6223 Publisher: Italian e-Learning Association
Abstract
Museum narratives are created from a conceptualization of events that can be structurally organized and referred to as the story. Therefore, the main process of developing a museum narrative is one of story-building. This paper presents a methodology to enrich the creation of stories for digital storytelling. The methodology is at the basis of a smart authoring system that supports authors of digital storytelling in the identification of contents from external repositories and their automatic mapping on different narrative structures, according to syntactic and semantic rules and well- defined narrative structures. Furthermore, the methodology leverages on semantic models and technologies such as ontologies, clustering and text analysis, and supports the development of a smart environment for creation of stories starting from a set of pictures. We have validated our methodology for a specific narrative structure, i.e. the Dramatic Arc, for the creation of an educational storytelling related to the museum exhibition about Second World War.
Citation
Gaeta, A., Gaeta, M., Guarino, G. & Miranda, S. (2015). A smart methodology to improve the story-building process. Journal of e-Learning and Knowledge Society, 11(1),. Italian e-Learning Association. Retrieved May 20, 2019 from https://www.learntechlib.org/p/150725/.
Keywords
References
View References & Citations Map
Antoniu, A., Lepouras, G., Bampatzia, S., Almpanoudi, H. (2013), An approach for serious game development for cultural heritage: Case study for an archaeological site and museum. Journal on Computing and Cultural Heritage 12/2013; 6(4).

Byrne, K., Klein, E. (2009), Automatic Extraction of Archaeological Events from Text. Proc. Of the 37th Int. Con., Williamsburg, Virginia, USA, March 22-26, 2009.

Cao, Y., Klamma, R., & Jarke, M. (2011), The Hero's Journey-Template-Based Storytelling for Ubiquitous Multimedia Management. Journal of Multimedia, 6(2), 156-169.

Cimiano, P., Hotho, A., Staab, S. (2005), Learning Concept Hierarchies from Text Corpora using Formal Concept Analysis. Journal of Artificial Intelligence Research 24 (2005) 305–339.

Corston-Oliver, S. (1998), Computing Representations of the Structure of Written Discourse. Technical Report MSR-TR-98-15 Microsoft Research.

Gaeta, A., Gaeta, M., Capuano, N., Mangione, G.R., Pierri, A. (2014), Enhancing Educational Experiences with Remediation Theory: the Case of the FIBAC Project.

Gaeta, M., Loia, V., Mangione, G.R., Orciuoli, F., Ritrovato, P., Salerno, S. (2014), A methodology and an authoring tool for creating Complex Learning Objects to support interactive storytelling. Computers in Human Behavior, Volume 31, Issue 1, February 2014, Pages 620-637.

Gail, E., Brewster, J. (2002), Tell it Again!. The New Storytelling Handbook for Primary Teachers. Harlow: Penguin English, 2002. Print.

Ganter, B., Stumme, G., Wille, R. Eds. (2005), Formal Concept Analysis: Foundations and Applications. Lecture Notes in Artificial Intelligence, no. 3626, Springer-Verlag,

Khurshid, S.K., Shoaib, M. (2013), RIO: Rhetorical Structure Theory Based Indexing Technique for Image Objects, The International Arab Journal of Information Technology, Vol. 10, No. 5, September 2013.

Kim, S., Bracewell, R.H., Ahmed, S. And Wallace, K.M. (2006), Semantic Annotation To Support Automatic Taxonomy Classification, 9th Int. Design Con.-Design 2006.

Kiryakov, A., Ognyanoff, D., Velkov, R., Tashev, Z., Peikov, I. (2009), LDSR: Materialized Reason-able View to the Web of Linked Data. Proc. Of CEUR Workshop, 2009.

Mangione, G.R, Orciuoli, F., Pierri, A., Ritrovato, P., Rosciano, M. (2011), A new model for storytelling complex learning objects. Proc. Of the 3rd IEEE Int. Con. On Intelligent Networking and Collaborative Systems, INCoS 2011.

Mann, W.C., Thompson, S.A. (1987), Rhetorical Structure Theory: A Theory of Text Organization. ISI/RS-87-190, 1987.

Melnik, S., Garcia-Molina, H., Rahm, E. (2002), Similarity Flooding: A Versatile Graph Matching Algorithm and its Application to Schema Matching. Proc. Of the Int. Con. On Data Engineering, pp. 117-128.

Nakasone, A., Prendinger, H., Ishizuka, M. (2009), ISRST: Generating interesting multimedia stories on the web. International Journal of Applied Artificial Intelligence, Vol. 23, No. 7, Sept 2009, pp 633-679.

Nakasone, A., Ishizuka, M. (2007), ISRST: An Interest based Storytelling Model using Rhetorical Relations. Edutainment 2007, Springer LNCS 4469, June 11-13, 2007, Hong Kong, China, pp. 324-335.

Rolfe, B., Jones, C.M., Wallace H. (2010), Designing Dramatic Play: Story and Game Structure. Proc. Of the 24th BCS Int. Con. On Human-Computer Interaction (HCI2010), Sept. 6–10, 2010 (pp. 448–452). Dundee, UK:British Computer Society.

Segers, R., van Erp, M., van der Meij L. (2011), Hacking History via Event Extraction. Proc. Of the 6th Int. Con. On Knowledge capture, Banff, Canada, June 25-29, 2011.

Thompson, K. (1999), Storytelling in the new Hollywood: understanding classical REVIEWED PAPERS-FOCUS ON SMART, UBIQUITOUS AND MASSIVE LEARNING ENVIRONMENTS Je-LKS PEER Vol. 11, N. 1, January 2015 narrative technique. Harvard University Press.

Villaseñor, M.C. (2007), Building Echoes. The Role of Storytelling in Museums and Galleries. Wyman, B., S. Smith, et al. (2011), Digital storytelling in museums: observations and best practices. Curator 54(4): 461-468.

Wolff, A., Mulholland, P., Collins, T. (2013), StoryScope: using theme and setting to guide story enrichment form external data sources. Proc. Of the 24th ACM Con. On Hypertext and Social Media, pp. 79-88.

Wolff, A., Mulholland, P., Collins, T. (2012), Storyspace: a Story-driven Approach for Creating Museum Narratives. Proc. Of the ACM Con. On Hypertext and Social Media, Milwaukee, USA, June 25-28, 2012.

Yadav, J., Sharma, M. (2013), A Review of K-mean Algorithm, International Journal of Engineering Trends and Technology (IJETT) – Volume 4 Issue 7-July 2013.
These references have been extracted automatically and may have some errors. Signed in users can suggest corrections to these mistakes.
Suggest Corrections to References