You are here: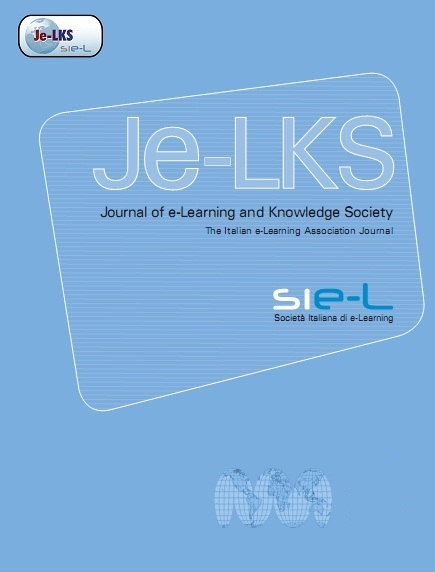 Personalization, adaptivity, attunement
ARTICLE
Journal of e-Learning and Knowledge Society Volume 11, Number 1, ISSN 1826-6223 e-ISSN 1826-6223 Publisher: Italian e-Learning Association
Abstract
The complexity of the current educational context, that is, the fragmentation of knowledge and the diversity which characterizes the students in our schools requires new competences. One of the answer is certainly to think about personalized path. The personalization of paths is a hard task for the teacher and, thus, the efficacy and also the sustainability of this choice need to be examined. For what concerns sustainability a solution has been provided by the interaction between the educational world and the world of knowledge engineering. The focus on the user, on intelligent systems for personalization, the adaptive and responsive design are proposals that were born with a different objective, but that have opened new perspectives also in the educational context. Besides, such processes have linked different research fields, the one of education and the one of knowledge engineering, such connection needs a common languages and meanings to be able to produce solutions. The paper is aimed at investigating possible solutions to foster the convergence and the dialogue between the two sectors and wants to verify if the complexity of the current situation is changing the concept itself of personalization.
Citation
Rossi, P. & Fedeli, L. (2015). Personalization, adaptivity, attunement. Journal of e-Learning and Knowledge Society, 11(1),. Italian e-Learning Association. Retrieved May 23, 2019 from https://www.learntechlib.org/p/150722/.
Keywords
References
View References & Citations Map
Altet M. (1997), Le pédagogie de l'apprentissage, Paris, PUF.

Baldacci M. (2005), Personalizzazione o individualizzazione? Trento, Erickson.

Berthoz A. (2004), Physiologie du changement de point de vue, in: Berthoz, A., Jorland G. (Eds), L'Empathie. 251–275, Parigi, Odile Jacob.

Brusilovsky P., Peylo C. (2003), Adaptive and intelligent Web-based educational systems, International Journal of Artificial Intelligence in Education, Special Issue on Adaptive and Intelligent Web-based Educational Systems, 13 (2-4), 159-172.

Brusilovsky P., Millán E. (2007), User Models for Adaptive Hypermedia and Adaptive Educational Systems, in: Brusilovsky P., Kobsa A., Nejdl W. (Eds), The Adaptive Web, Lecture Notes in Computer Science. 3-53, Berlin, Springer-Verlag.

Calvani A., Rotta M. (2000), Fare formazione in Internet, Trento, Erickson. Chiosso G. (updated 2010), La personalizzazione dell'insegnamento, URL: http://www.iperbole.bologna.it/iperbole/adi/XoopsAdi/modules/PDdownloads/singlefile. Php?cid=9&lid=635 (accessed on 15th November 2014).

Cohen P., Kulik J.A., Kulik C.C. (1982), Educational outcomes of tutoring: A metaanalysis of findings, American Educational Research Journal, 19, 237-248.

Corno L. (2008), On teaching adaptively, Educational Psychologist,43 (3), 161-173.

Damiano E. (2013), La mediazione didattica, Milano, Franco Angeli.

FerrariS. (2014), La flipped classroom, Sim Scuola Italiana Moderna, 2, 107.

Giaconi C. (2015), Propit, Sim-Scuola italiana Moderna, 2, 76-78. Giaconi C. (2015), Qualità della vita e disabilità adulta. Percorsi di ricerca e prospettive inclusive, Milao, FrancoAngeli.

Glaser R. (1977), Adaptive education: Individual, diversity and learning, New York, Holt.

Hoz G.V., Bernal Guerrero A., Di Nuovo S., and Zanniello G. (1997), Dal fine agli obiettivi dell'educazione personalizzata, Palermo, Palumbo.

Kadiyala M., Crynes B.L. (1998), Where's the proof? A review of literature on effectiveness of information technology in education, in: Proceedings of the 28th annual frontiers in education, Vol. 01, 33–37.

Koschmann T.D. (Ed.) (1996), CSCL, Theory and Practice of an Emerging Paradigm, New Jersey, Lawrence Erlbaum Associates.

Kulik C.L.C., Kulik J.A., and Bangert-Drowns R.L. (1990), Effectiveness of mastery learning programs: A meta-analysis, Review of Educational Research, 60, 265–299.

Laurillard D. (2014), Insegnamento come scienza della proge t taz ione, Milano, FrancoAngeli.

Lepper M.R., Woolverton M., Mumme D., and Gurtner J. (1993), Motivational techniques of expert human tutors: lessons for the design of computer-based tutors, in: Lajoie S.P., Derry S.J. (Eds.), Computers as cognitive tools. 75-105, Hillsdale, Lawrence Erlbaum Associates.

Lutzker P. (2014), Attunement and Teaching, Rose, Research on Steiner Education, 5, Special issue, 65-72.

McLoughlin C., Lee M.J.W. (2008), The three P's of pedagogy for the networked society: personalization, participation, and productivity, International Journal of Teaching& Learning in Higher Education, 20 (1), 10-27.

Mangione G. (2013), Istruzione adattiva. Approcci, tecniche e tecnologie, Lecce, Pensa.

Mayer R.E (2003), The promise of multimedia learning: using the same instructional design methods across different media, Learning and Instruction, 13 (2), 125-139.

Montedoro C. (Ed) (2011), La personalizzazione dei percorsi di apprendimento e di insegnamento. Modelli, metodi e strategie didattiche, Milano, FrancoAngeli.

O'Neil H. (2014), Editorial, AERJ, 51, (1), 114-116.

Paviotti G., Rossi P.G., and Zarka D. (Eds) (2013), Intelligent Tutoring Systems: An Overview, Lecce, Pensa Multimedia.

Proulx J. (2004), The Enactivist theory of Cognition and Behaviorism: An Account of the Processes of Individual SenseMaking, Proceedings of the 2004 Complexity Science and Educational Research Conference, Canada, 115-120.

Reigeluth C.M. (1999), What is instructional-design theory and how is it changing? In: Reigeluth C.M. (Ed.), Instructional-design theories and models. A new paradigm of instructional theory. Volume II, 5-29, Mahwah, NJ, Lawrence Erlbaum Associates.

Rivoltella P.C. (2012), Neurodidattica. Insegnare al cervello che apprende, Milano, Cortina Raffaello.

Rossi P.G. (2011), Didattica enattiva, Milano, FrancoAngeli.

Rossi P.G., Fedeli L. (2014), Interdisciplinarity: rhetoric or the latest promising new field?, Education Sciences& Society (ESS), 5(1), 105-120.

Rossi, P.G., Fedeli, L. (2015), Empathy, education and AI, Special Issue on Artificial Empathy, International Journal of Social Robotics (IJSR), Springer. Schulze K.G., Shelby R.N., Treacy D.J., Wintersgill M.C., Vanlehn K., and Gertner A. (2000), Andes: an intelligent tutor for classical physics, New Information Technology and Liberal Education, 6,(1), 1-11.

Sibilio M. (2014), La didattica semplessa, Napoli, Liguori.

Soylu A., Vandewaetere M., Wauters K., Jacques I., De Causmaecker P., Desmet P., Clarebout G., Van Den Noortgate W. (2011), Ontology-driven Adaptive and Pervasive Learning Environments-APLEs: An Interdisciplinary Approach., in: De Wannemacker S., Clarebout G., De Causmaecker P. (Eds.), Interdisciplinary Research on Technolgy, Education and Communication (ITEC 2010). 99-115, Berlin Heidelberg, Verlag.

Varela F.J., Thompson E., and Rosch E. (1991), The embodied mind: Cognitive science and human experience, London, MIT Press.

Vinatier I., Numa-Bocage L. (2007), Prise en charge d'un enfant en dii culté de lecture par un maître spécialisé: gestion de l'intersubjectivité et schème de médiation didactique, Revue française de pédagogie, 158, 85-101.

Waxman H.C. (1983), Effect of teachers' empathy on students' motivation, Psychological reports, 53(2), 489-490.
These references have been extracted automatically and may have some errors. Signed in users can suggest corrections to these mistakes.
Suggest Corrections to References