You are here: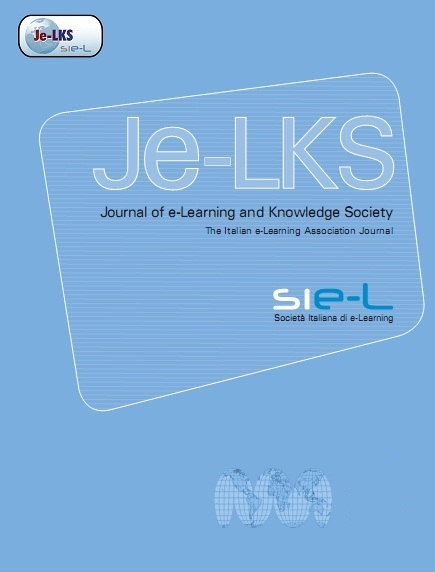 Eduonto: an ontology for Educational Assessment
ARTICLE
Journal of e-Learning and Knowledge Society Volume 11, Number 1, ISSN 1826-6223 e-ISSN 1826-6223 Publisher: Italian e-Learning Association
Abstract
The search for possible applications in the field of Education, by means of domain specific ontologies on the issues of assessment of learning (assessment) and system (evaluation), has been implemented through the construction, testing and evolution of an integrated learning environment called EduOntoWiki. It is supported by ontological structures related to science education based on active consent of specific communities of practice. It allows selecting and incorporating the ontologies in order to organize learning objects to improve learning process. It is created as a setting in which they had the relevant formal descriptions (coding ontology) and informal (and narrative contextualization of concepts); where the possible intra-and inter-community relations were made explicit and recognized by all participants through specific social software. The last point in particular, has led to our hypothesis: only the transition from a technology-driven model (formal, static) to a community-driven model (dynamic and integrated in an open learning environment) could make really effective and relevant the ontologies that we built in several communities of practice. Therefore, the final goal was the realization of an integrated learning environment attempting the difficult transition from an "ontological-formal" system to an "ontological-relational" one.
Citation
Marzano, A. & Notti, A. (2015). Eduonto: an ontology for Educational Assessment. Journal of e-Learning and Knowledge Society, 11(1),. Italian e-Learning Association. Retrieved May 21, 2019 from https://www.learntechlib.org/p/150720/.
Keywords
References
View References & Citations Map
Aroyo L., Dicheva D. (2004), The new challenges for e-learning: the educational semantic web, Educational technology& Society, 7 (4), 59-69.

Bao J., Honavar V. (2004), Collaborative Ontology Building with Wiki@nt. A multiagent based ontology building environment, 3rd International Workshop on Evaluation of ontology-based Tools, Hiroshima, Japan

Brown J.S., Collins A., Duguid P. (1989), Situated cognition and the culture of learning, Educational researcher, 18 (1), 32-41.

Buffa M., Gandon F., Ereteo G., Sander P., Faron C. (2008), SweetWiki: A semantic wiki, Web Semantics, 6 (1), 84-97.

Dewey J. (1939), Theory of Valuation, International Encyclopedia of Unified Science, II 4, Chicago, University of Chicago Press.

Galliani L., Petrucco C., Dal Bon C. (2004), EduOnto: actors, processes, technologies: an ontology on educational acting, Conference Proceedings 21st ICDE World Conference on Open Learning and Distance. Galliani L., (Eds.), (2009), Web ontology della valutazione educativa, Lecce, Pensa Multimedia.

Koper R., Olivier B. (2004), Representing the Learning Design of Units of Learning. Educational, Technology& Society, 7 (3), 97-111.

Le Boterf G. (2000), Construire les compétences individuelles et collectives, Paris, Editions d'Organisation.

Mathes A. (2004), Folksonomies-cooperative classification and communication through shared metadata, Computer Mediated Communication, 47 (10), 1-13.

Naeve A., Lytras M., Nejdl W., Harding J., Balacheff N. (2006), Advances of semantic web for e-learning: expanding learning frontiers, British Journal of Educational Technology, 37 (3), 321-330.

Notti A.M. (2009), Valutazione educativa: sperimentazione dell'ontologia, Lecce, Pensa Editore.

Palumbo M. (2001), Il processo di valutazione. Decidere, programmare, valutare, Milano, Franco Angeli.

Schaffert S., Gruber A., Westenthaler R. (2005), A Semantic Wiki for Collaborative Knowledge Formation, Proceedings of Semantics, Vienna, Austria, November.

Scriven M. (1982), Evaluation thesaurus, Beverly Hills (CA), Sage.

Scriven M. (1994), Evaluation as a Discipline, Studies in educational evaluation, 20 (1), 147-166.

Souzis A. (2005), Building a semantic wiki, IEEE Intelligent Systems, 20 (5), 87-91.

Stame N. (2000), La valutazione nella P.A.. In M. Palumbo (Ed.), Valutazione 2000. Esperienze e riflessioni, Primo Annuario dell'AIV, Milano, Franco Angeli.

Stutt A., Motta E. (2004), Semantic Learning Webs. Journal of Interactive Media in Education, 10, 253-285.

Trentin G. (2001), Dalla formazione a distanza all'apprendimento in rete, Milano, Franco Angeli.

Ure J., Procter R., Lin Y. (2007), A socio-technical perspective on ontology Development in HealthGrids. Proceedings of UK eScience All Hands Meeting, 10-13 Sept, Nottingham.

Wenger E. (1998), Communities of practice: learning, meaning and identity, Cambridge, University Press.
These references have been extracted automatically and may have some errors. Signed in users can suggest corrections to these mistakes.
Suggest Corrections to References