You are here: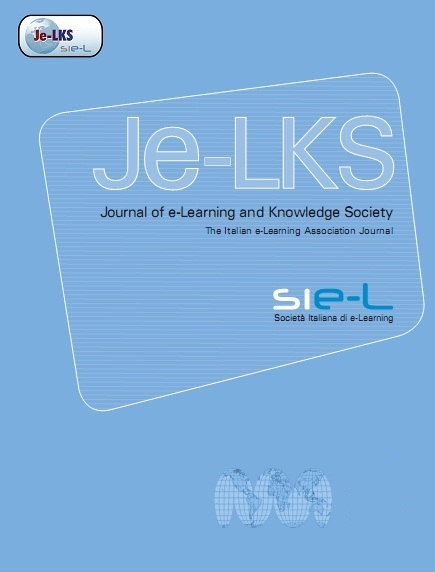 A technique for designing glossary activities with facial authentication
ARTICLE
Journal of e-Learning and Knowledge Society Volume 11, Number 1, ISSN 1826-6223 e-ISSN 1826-6223 Publisher: Italian e-Learning Association
Abstract
Nowadays, one of the key challenges for distance education is to be able to verify the students' identity in order to check if they are actually who they claim to be when they are doing their online tasks and to avoid identity thief. This can be achieved through facial authentication software. In e-learning, thanks to this technology there is a way to confirm that the students are not committing fraud in their studies and besides to improve this kind of education by equaling its validity and prestige to traditional face-to-face education. The goal of this research is to avoid fake users that perform educational tasks on behalf of others in the Learning Management Systems (LMSs), and more specifically to develop a new technique to design activities with glossaries that properly allow control of the student learning process through facial authentication software. The presented technique is composed of several steps that guide instructors in the elaboration of this kind of activities. This work has used Moodle platform for the experimentation, and analyzes the experience of 67 students with the activities designed with the presented technique.
Citation
Guilln-Gmez, F. & Garca-Magario, I. (2015). A technique for designing glossary activities with facial authentication. Journal of e-Learning and Knowledge Society, 11(1),. Italian e-Learning Association. Retrieved July 24, 2019 from https://www.learntechlib.org/p/150719/.
Keywords
References
View References & Citations Map
Calvert, K., & Szasz, P. (2009), Using Moodle to Create Community in the Classroom and Beyond. International Students: Strengthening a Critical Resource, 141.

Dehnavi, M.K., & Fard, N.P. (2011), Presenting a multimodal biometric model for tracking the students in virtual classes. Procedia-Social and Behavioral Sciences, 15, 3456-3462.

Dougiamas, D.M. (2010), Using Moodle in ESOL Writing Classes.

Dougiamas, M., & Taylor, P. (2003), Moodle: Using learning communities to create an open source course management system. In World conference on educational multimedia, hypermedia and telecommunications (Vol. 2003, No. 1, pp. 171-178).

Farshchi, S.M.R., & Toosizadeh, S. (2011), A safe authentication system for distance education. Computer Applications in Engineering Education.

Fictumová, J. (2004), E-learning for translators and interpreters-The case of LMS Moodle. IN: Consortium for Training Translation Teachers (CTTT), Project Papers.

Filippidi, A., Tselios, N., & Komis, V. (2010), Impact of Moodle usage practices on students' performance in the context of a blended learning environment. Proc. Social Applications for LifeLong Learning (SALL 2010), Patras, 2-7.

Garcıa-Hernández, J., & Paredes, R. (2005), Biometric identification using palmprint local features. Biometrics on the Internet, 11.

Gil, R., Sancristobal, E., Diaz, G., & Castro, M. (2011, April), Biometric verification system in moodle& Their analysis in lab exams. In EUROCON-International Conference on Computer as a Tool (EUROCON), 2011 IEEE (pp. 1-4). IEEE.

González-Agulla, E., Alba-Castro, J.L., Argones-Rúa, E., & Anido-Rifón, L. (2010), Realistic Measurement of Student Attendance in LMS Using Biometrics. Journal of Systemics, Cybernetics& Informatics, 8(5).

Grafsgaard, J.F., Wiggins, J.B., Boyer, K.E., Wiebe, E.N., & Lester, J.C. (2013), Automatically Recognizing Facial Expression: Predicting Engagement and Frustration. In Proceedings of the 6th International Conference on Educational Data Mining.

Guillén-Gámez, F.D., & García-Magariño, I. (2014), Facial authentication considering the different kinds of activities in Moodle and its plugins. In Proceedings of 8th International Technology, Education and Development (INTED2014) Conference (pp. 5451-5460). International Association of Technology, Education and

Hirschel, R. (2012), Moodle: Students' perspectives on forums, glossaries and quizzes. The Jaltcall Journal, 8 (2), 95–112.

Kakasevski, G., Mihajlov, M., Arsenovski, S., & Chungurski, S. (2008, June), Evaluating usability in learning management system Moodle. In Information Technology Interfaces, 2008. ITI 2008. 30th International Conference on (pp. 613-618). IEEE.

Labayen, M., Vea, R., Flórez, J., Guillén-Gámez, F.D., & García-Magariño, I. (2014), Smowl: a tool for continuous student validation based on face recognition for online learning. Edulearn14 Proceedings, 5354-5359.

Lata, Y.V., Tungathurthi, C.K.B., Rao, H.R.M., Govardhan, A., & Reddy, L.P. (2009), Facial recognition using eigenfaces by PCA. International Journal of Recent Trends in Engineering, 1(1), 587-590.

Marrone, M., Mantai, L., & Kalyuga, M. (2012), Designing an online activity for collaborative language learning. In ASCILITE-Australian Society for Computers in Learning in Tertiary Education Annual Conference (Vol. 2012, No. 1).
Martin, S., Diaz, G., Sancristobal, E., Gil, R., Castro, M., & Peire, J. (2011), New technology trends in education: Seven years of forecasts and convergence. Computers& Education, 57(3), 1893-1906.

Nadiya, D. (2013), Teaching Maritime English: Writing Glossaries in Educational Purposes. Journal of Marine Technology and Environment, 1.

Sinitsa, K., & Manako, A. (2000), Extending the role of glossaries in a virtual learning environment. In Communications and Networking in Education (pp. 185-194).

Toth, A., Pentelenyi, P., & Tóth, P. (2006), Virtual learning aspects of curriculum development in technical teacher training. In Intelligent Engineering Systems, 2006. INES'06. Proceedings. International Conference on (pp. 308-313). IEEE.

Trombey, K.B. And Lee, D. (2002), Web based learning in corporations: who is usign it and why, who is not using and why not?, Journal of Educational Media, Vol.27, Nº3, pp. 137146.

Ullah, A., Xiao, H., & Lilley, M. (2012, June), Profile based student authentication in online examination. In Information Society (i-Society), 2012 International Conference on (pp. 109-113). IEEE.

Westerhout, E., & Monachesi, P. (2008), Creating Glossaries Using Pattern-Based and Machine Learning Techniques. In LREC.
These references have been extracted automatically and may have some errors. Signed in users can suggest corrections to these mistakes.
Suggest Corrections to References