You are here: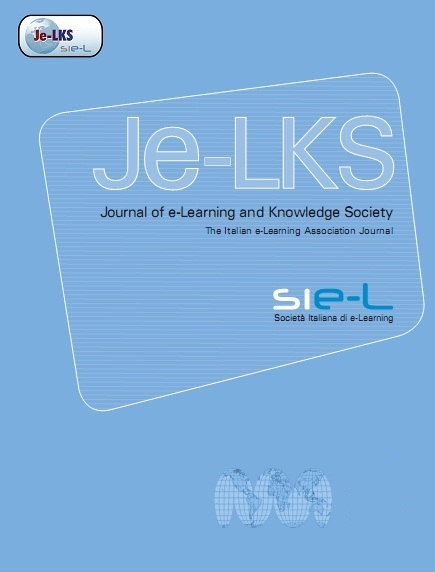 On demand analysis of learning experiences for adaptive content retrieval in an e-learning environment
ARTICLE
Journal of e-Learning and Knowledge Society Volume 11, Number 1, ISSN 1826-6223 e-ISSN 1826-6223 Publisher: Italian e-Learning Association
Abstract
Understanding the learning experiences plays a vital role in identifying the suitable learning content for the learners. In this regard, the standards like the experience Application Programming Interface (xAPI) are of great help as they have the potential to record and represent the learning experiences over the e-learning environment. As the learner requirements vary with their understanding of the topics over the learning cycle, there is an inherent need for dynamic derivation of the learner's requirement at each learning instance. However, the limitation with experience statements generated through the xAPIs is that they fail to convey the detailed information about the Learning Object (LO) or the learner who used it. This paper addresses the issues with the representation of experience statements by proposing a multidimensional view of learning experiences such that they could be analyzed effectively. The Cross Dimensional Slicing (CDS) algorithm proposed in this paper has proved that the multidimensional representation of learning experiences greatly improves the effectiveness of analyzing them and thereby improving the precision of LOs being recommended. Also, the steep increase in the accuracy of recommendation of LOs over the different batches of learners considered for the study has reduced the number of slow learners of the learning environment altogether.
Citation
Raghuveer, R. & Tripathy, B. (2015). On demand analysis of learning experiences for adaptive content retrieval in an e-learning environment. Journal of e-Learning and Knowledge Society, 11(1),. Italian e-Learning Association. Retrieved May 21, 2019 from https://www.learntechlib.org/p/150717/.
Keywords
References
View References & Citations Map
Alexander, B. (2006), Web 2.0: A new wave of innovation for teaching and learning?. Educause review, 41(2), 32.

Bergeron, B. (2014), Application of Learning Record Stores and Other Forms of Electronic Competency Records in Modeling Competency Degradation. Medicine Meets Virtual Reality 21: NextMed/MMVR21, 196, 23.

Berson, A., & Smith, S.J. (1997), data warehousing, data mining, and OLAP. McGrawHill, Inc..

Dalsgaard, C. (2006), Social software: E-learning beyond learning management systems, European Journal of Open, Distance and E-Learning, 2006(2).

Deza, M.M., & Deza, E. (2009), Encyclopedia of distances. Springer Berlin Heidelberg.

Dolog, P., Henze, N., Nejdl, W., & Sintek, M. (2004), Personalization in distributed e-learning environments, proceedings of the 13th ACM international WorldWide Web conference on Alternate track papers& Posters, 170-179.

Experience API Working Group (2013), Experience API, the Advanced Distributed Learning (ADL) Initiative, Apr.2013.

Gibson, A., Kitto, K., & Willis, J. (2014), A cognitive processing framework for learning analytics, proceedings of the fourth ACM International Conference on Learning Analytics And Knowledge, 212-216.

IEEE Learning Technology Standards Committee (2002), Draft standard for learning object metadata. Accessed July, 14, 2002.

Manning, C.D., Raghavan, P., & Schütze, H. (2008), Introduction to information retrieval, Cambridge university press.

Negash, S. (2004), Business intelligence, The communications of the Association for Information Systems, 13(1), 54.

Pazzani, M.J., & Billsus, D. (2007), Content-based recommendation systems. In The adaptive web. Springer Berlin Heidelberg.

Poltrack, J., Hruska, N., Johnson, A., & Haag, J. (2012), The next generation of scorm: Innovation for the global force. The Interservice/Industry Training, Simulation& Education Conference (I/ITSEC), National Training Systems Association, 1(1).

Qiao, Z., Zhang, P., Cao, Y., Zhou, C., & Guo, L. (2014), Improving Collaborative Recommendation via Location-based User-item Subgroup. Procedia Computer Science, 29, 400-409.

Raghuveer, V.R, & Tripathy, B.K (2012), An Object Oriented Approach to Improve the Precision of Learning Object Retrieval in a Self Learning Environment. Interdisciplinary Journal of E-Learning and Learning Objects, 8(1), 193-214.

Richards, G., McGreal, R., Hatala, M., & Friesen, N. (2002), The evolution of learning object repository technologies: Portals for on-line objects for learning. International Journal of E-Learning& Distance Education, 17(3), 67-79.

Siemens, G., & Long, P. (2011), Penetrating the fog: Analytics in learning and education. Educause Review, 46(5), 30-32.

Warren, S.J., Lee, J., & Najmi, A. (2014), The impact of technology and theory on instructional designs ince 2000, Handbook of research on educational communications and technology, Springer, New York.

Wiley, D. (2000), Getting axiomatic about learning objects.

WorldWide Web Consortium. (2013), Resource Description Framework Specification. Http://site.watershedlrs.com/ http://tincanapi.com/
These references have been extracted automatically and may have some errors. Signed in users can suggest corrections to these mistakes.
Suggest Corrections to References