You are here: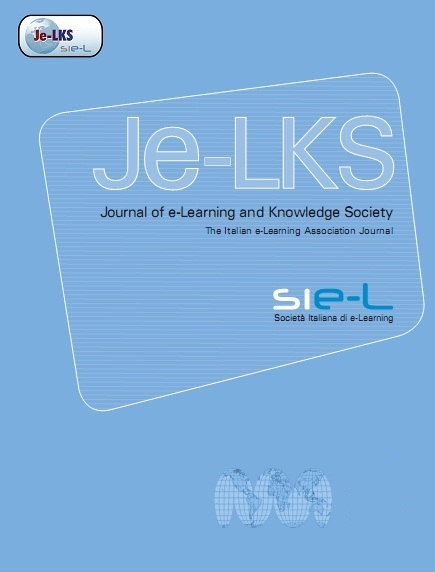 The development of a virtual learning platform for teaching concurrent programming languages in the Secondary Education: The use of Open Sim and Scratch4OS
ARTICLE
Journal of e-Learning and Knowledge Society Volume 10, Number 1, ISSN 1826-6223 e-ISSN 1826-6223 Publisher: Italian e-Learning Association
Abstract
The present case study introduces the utilization of two well-known technologically advanced environments in a computer laboratory of a Greek High School and highlights the growing challenges and affordances that users (students and instructors) face after its utilization. In these circumstances it was created a mind-trap puzzle game in a virtual learning platform that emanated from the conjunction of the three-dimensional (3D) virtual world of Open Sim and the two-dimensional (2D) Scratch4OS visual programming environment. Nowadays VWs recognized as the most well-known candidate platforms for implementing users several collaborative scenarios in different disciplines of the Higher education; however a research about their effect in the Secondary education is still infrequent. The main purpose of this study is to utilize the above environments as a unique platform to learn students concurrent and visual programming commands. The paper tabulates not only with a summary of some problems and challenges that existed during the learning procedure, but also with some instructional implications that the increasing role of this platform can establish. Concluding remarks on students' opinions and experiences briefly encoded some other interesting issues which also ascertained.
Citation
Pellas, N. (2014). The development of a virtual learning platform for teaching concurrent programming languages in the Secondary Education: The use of Open Sim and Scratch4OS. Journal of e-Learning and Knowledge Society, 10(1),. Italian e-Learning Association. Retrieved January 29, 2023 from https://www.learntechlib.org/p/148264/.
Keywords
References
View References & Citations Map
Abbas, A. (2010), Learning Dynamics and Control in a Virtual World. In Proceedings of EDUCON'10-IEEE Education Engineering (pp. 737-741). Spain.

Berns, A., Gonzalez-Pablo, A. & Camacho, D. (2013), Game-like language in 3-D virtual environments. Computers and Education, 60(1), 210-220.

Blackwell, A. (2002), What is programming? Paper presented at the 14th workshop of the Psychology of Programming Interest Group (pp.204-218). Brunel, Middlesex,

Chesney, T., Chuah, S., & Hoffmann, R. (2009), Virtual World Experimentation: An Exploratory Study. Journal of Economics Behavior& Organization, 72(1), 618-635.

Chen, H-J. & Su, C-C. (2011), Constructing a 3D virtual world for foreign language learning based on open source freeware. Edutainment technologies. Educational games and virtual reality/Augmented reality applications. (pp. 46-63). Lecture Notes

Ennis D.L. (1994), Computing, problem-solving instructionand programming instruction to increase the problem-solving ability of high school students. Journal of Research on Computing in Education, 26(4), 489-496.

Hadjerrouit, S. (2009), Didactics of ICT in secondary education: conceptual issues and practical perspectives. Issues in Informing Science and Information Technology, 6, 153–178.

Feng, C-Y. & Chen, M.-P. (2013), The effects of goal specificity and scaffolding on programming performance and self-regulation in game design. British Journal of Educational Technology. Doi:10.1111/bjet.12022.

Guzdial, M. & Soloway, E. (2002), Teaching the Nintendo generation to program. Communication ACM, 45(4), 17–21.

Kemp, J., Livingstone, D. & Bloomfield, P. (2009), SLOODLE: Connecting VLE tools with emergent teaching Practice in Second Life. British Journal of Educational Technology, 40(3), 551-555.

Kolikant, Y.B.-D. & Pollack, S. (2004), Establishing computer science professional norms among high-school students. Computer Science Education, 14(1), 21-35.

Konstantinou, N., Varlamis, I. & Giannakoulopoulos, A. (2009), Using 3D worlds in an educational network. Workshop on Informatics in Education held in conjunction with the 13th Panhellenic Conference in Informatics, PCI 2009 (pp. 94-97).

Kordaki, M. (2013), High school computing teachers' beliefs and practices: A case study. Computers& Education, 68(1), 141-152.

Lim, J. & Edirisinghe, E. (2007), Teaching Computer Science Using Second Life as a Learning Environment. In Proceedings Ascilite Singapore (pp. 583-586). In R.W.

Jenkins, T. (2002), On the difficulty of learning to program. Proceedings of the 3rd Annual Conference of the LTSN Centre for Information and Computer Sciences (pp. 53-58). United Kingdom: Loughborough University.

Pea, D. (1986), Language-independent conceptual ''bugs'' in the novice programming, Journal of Educational Computing Research, 2(1), 25-36.

Pennington, N., Lee, A. & Rehder, B. (1995), Cognitive activities and levels of abstraction in procedural and object-oriented design. Human-Computer Interaction, 10, 171-226.

Pellas, N., Peroutseas, E. & Kazanidis, I. (2013), Virtual communities of inquiry (VCoI) for learning basic algorithmic structures with Open Simulator& Scratch4(OS): A case study from the Secondary Education in Greece. In K. Diamantaras, G. Evangelidis, Y. Manolopoulos, C. Georgiadis, P. Kefalas, D. Stamatis (Eds.), Balkan Conference in Informatics, BCI '13 (pp. 187-194). Thessaloniki, Greece: ACM

Turkay, S., & Tirthali, D. (2010), Youth Leadership Development in Virtual Worlds: A Case Study. Procedia Social and Behavioral Science, 2, 3175-3179.
These references have been extracted automatically and may have some errors. Signed in users can suggest corrections to these mistakes.
Suggest Corrections to References