You are here: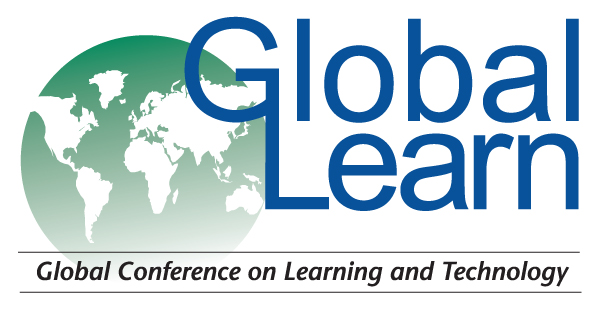 Blended Project-Based Learning with use of eMath Tools
PROCEEDINGS
Global Learn, in Penang, Malaysia ISBN 978-1-880094-79-2 Publisher: Association for the Advancement of Computing in Education (AACE)
Abstract
Abstract: This paper presents a study using the designed-based research approach on a blended project-based learning environment with the use of Web 2.0 and dynamic mathematics software. Participants in this study were a group of grade 9 students. The study investigated how with the use of online collaboration and feedback from others, students were able to overcome their struggle to understand the new topic and using a new online dynamic mathematics software: Geogebra. With the timely and appropriate intervention that used relevant technologies students eventually achieve deep learning in mathematics so that they are more adept in making connections, relating ideas to prior knowledge and transferring concepts learnt to solving problems in real-world context. This paper concludes with how the learning environment will be refined and implemented again in 2010.
Citation
Ang, C.C., Tey, A.H. & Khoo, K.P. (2010). Blended Project-Based Learning with use of eMath Tools. In Z. Abas, I. Jung & J. Luca (Eds.), Proceedings of Global Learn Asia Pacific 2010--Global Conference on Learning and Technology (pp. 278-283). Penang, Malaysia: Association for the Advancement of Computing in Education (AACE). Retrieved November 12, 2019 from https://www.learntechlib.org/primary/p/34186/.
Keywords
References
View References & Citations Map
Afamasaga-Fuata'i, K. (2008). Students' conceptual understanding and critical thinking. Australian Mathematics Teachers, 64(2), 8-17.
Arcavi, A., & Resnick, Z. (2008). Generating problems from problems and solutions from solutions. Mathematics Teachers, 102(1), 10-14.
Atherton, J.S. (2005). Learning and Teaching: Deep and Surface learning. Retrieved August 12, 2008 from http://www.learningandteaching.info/learning/deepsurf.htm.Donnelly,R.,&Fitzmaurice,M.(2005).CollaborativeProject-BasedLearningandProblem-BasedLearninginHigherEducation:ConsiderationofTutorandStudentRolesinLearner-FocusedStrategies.RetrievedJune20,2008fromhttp://www.aishe.org/readings/2005-1/donnelly-fitzmaurice-Collaborative-Project-based-Learning.html.
Donovan, M.S., & Bransford, J.D. (2005). Introduction. In M.S. Donovan, & J.D. Bransford (Eds.), How Students Learn Mathematics in the Classroom (pp. 1-26). WA: The National Academy Press.
Felder, R. (1990). Meet Your Students: 3. Michelle, Rob, and Art. Chemical. Engineering Education, 24(3), 130-131. Retrieved Aug 19, 2008 from http://www4.ncsu.edu/unity/lockers/users/f/felder/public/Columns/Michelle.html.
Herrington J., & Kervin, L. (2007). Authentic learning supported by technology: ten suggestions and cases of integration in classrooms. Educational media International, 4493), 219-236.
Jackson, R., Karp, J., Patrick, E., & Thrower, A. (2006). Social Constructivism Vignette.. Retrieved August 12, 2008 from http://projects.coe.uga.edu/epltt/index.php?title=Social_Constructivism.McMahon,M.(1997).Socialconstructivismandtheworldwideweb–aparadigmforlearning.InProceedingsofTheAustralianSocietyforComputersinLearninginTertiaryEducation1997Conference.RetrievedAug15,2008fromhttp://www.ascilite.org.au/conferences/perth97/papers/Mcmahon/Mcmahon.html.
Meissner, H. (2006). Changing mathematical "Vorstellungen" by the use of digital technologies– Pre-Conference Paper for ICMI STUDY 17: "Digital technologies and mathematics teaching and learning: Rethinking the terrain". Hanoi University of Technology.
Reeves, T.C. (2006). Design research from a technology perspective. In J. Van den Akker, K. Graveneijer, S. McKenny & N. Nieveen (Eds.), Educational Design Research (pp. 52-66). Londaon: Routledge.
Schoenfeld, A.H. (1987). What's all the fuss about metacognition? In A.H. Schoenfeld (Ed.), Cognitive Science and Mathematics Education (pp. 189-215). Hillsdale, NJ: Lawrence Erlbaum Associates.
Siemens, G. (2005). Connectivism: A learning theory for the digital age. International Journal of Instructional Technology and Distance Learning, 2(1). Retrieved May 27. 2008 from http://itdl.org/Journal/Jan_05/article01.htm.Smith,T.W.,Colby,S.A.(2007).TeachingforDeepLearning.RetrievedAug17,2008fromhttp://www.redorbit.com/news/education/1023070/teaching_for_deep_learning/index.html.
Tomlinson C.A., Kaplan, S.N., Renzullu, J.S., Purcell, J.H., Leppien, J.H., & Burns, D.E. (2002). The Parallel Curriculum: A Design to Develop High Potential and Challenge High Ability Learners. CA: Corwin Press.
Vazquez, L.T. (2008). A,E, I, O, U and Always Y: A simple technique for improving communication and assessment in Mathematics classroom. Mathematics Teachers, 102(1), 16-23.
Wiggins, G. (1998). Educative Assessment: Designing Assessments to Inform and Improve Student Performance. San Francisco: Josey-Bass.
Wong, K.Y. (2008). An extended Singapore mathematics curriculum framework. Maths Buzz. Retrieved August 10, 2008 from http://math.nie.edu.sg/ame/NIE_Maths%20Buzz%20Apr%2008.pdf.
These references have been extracted automatically and may have some errors. Signed in users can suggest corrections to these mistakes.
Suggest Corrections to References